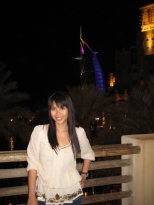 Dynamic Dubai
An interesting place with different array of cultures all over the world but still has a strong hold of Middle Eastern culture would be Dubai.  The funky, unusually shaped buildings mark its dynamic architectural heights.  No one shall get bored in this dazzling city.
You can book hotel in Dubai here.
It is best to go here during winter in the Northern Hemisphere and avoid going on summers as it could get really hot.  Although Dubai's modern technology makes their inhabitants as comfortable as possible.  Recently, a plan of having  a cooling sand for the beach has been announced.  A/Cs are a must for any establishment but during November-January A/Cs are replaced with thick jackets.  The wind is cold but a white Christmas has not arrived.  Discover the city with a full day city tour.  Visit the famous Burj al Arab as for a glimpse of a seven star hotel.  Walk ins are not allowed.  It has to be scheduled and there is a payment for a visit.  The newly made Atlantis makes a remarkable replica of the lost city.  This is near the Palm Islands and the World Islands as their wonderful tourist attraction.  For a non modern Middle Eastern experience visit the old town.  The Gold Souk has infinite numbers of gold jewelries hanging like lost treasures.  Experience desert safari by choosing to ride on a 4×4 or a came, take a pick.  Last but not the least,  shopping is endless with Dubai malls.  Burjuman has 5th avenue, Emirates mall has a huge skiing room and Dubai mall is the largest all over the world.