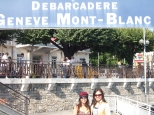 Green Swiss
Geneve is a wonderful place with the tallest fountain (Jet d'Eau) as one of the main tourist attraction. This narrow column of water shooting straight up to a staggering height of 140 meters is one of the most recognizable part of Geneva's skyline. The fountain operates throughout the day all year round, and at evening it's lit up by colorful lights.
Enjoy a cruise in the middle of the lake and pass the remarkable fountain. The best scenery for Lake Geneva cruises is between Lausanne and Montreux where the Alps form a constant backdrop and the vineyards of the Lavaux can be seen on the northern shores.
This city is also of the greenest city of Switzerland since it has a lot of parks. These green areas, in fact, contribute greatly to the quality of life of its inhabitants. Find the beautiful floral clock.  Stepping here is an instant relaxation.
Geneva is linked to Europe's capital cities by its international airport, motorways and railway network. You can rent a car on either side of Geneva Airport. Compare prices here at https://www.carhiregeneva-airport.co.uk/car-hire-geneva-airport-swiss-side/ for the Swiss side. The French side of Geneva Airport is a little cheaper generally for car hire.
Visit the headquarters of the United Nations and learn with guided a tour. Last but not the least, the old town is a fun sight to visit.  Enjoy the swiss experience of boutiques that sells swiss knives and swiss watches along the cobblestoned pathway.