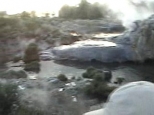 New Zealand is one of the most beautiful raw countries I have been to.  Rotorua is only a 3 our drive from Auckland.  This drive is full of sceneries you will enjoy.  Have some stop over on cafes halfway towards your destination and experience countryside dining.  It is rather lovely!  They serve the freshest of the fresh.
When you get to Rotorua, you will find this town very friendly.  There are assorted accommodation you can choose from.  they offer hotels, motels, lodges, backpackers and apartments.  Spend a day or even half of it exploring the town walking.  The museum is a great way to start your trip.
At night, I have to say, that nothing much is going on.  It is a quiet town.  You could have a great dinner with great wine.  Although deserted, their menus are flavorful and aromatic.  There is a spa called Hell's spa in this town.  It is a 45 min drive away and it is worth the drive.  You bathe in volcanic mud and your skin will turn pure.  Quote me on this.
They also offer guided tours on their Maori culture and a trip to geothermal activities.  Its wonderful to experience this.  You will hear history with friendly tour guides and it will not bore you.  Get to see smokey lands and bubbling water from the volcano safely.
Rotorua, my healing experience!