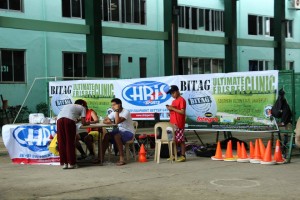 It was a rainy Saturday when Bitag Ultimate Team recently went to Southern Luzon State University (Lucban, Quezon) to teach college students their favorite sports, Ultimate Frisbee. The registration started early at 8am and the registrants get free jersey as soon as they registered.  Flocks of students came to the registration desk as soon as Bitag opened the event.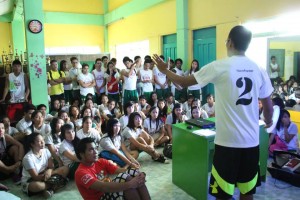 Coach JJ Sison, Bitag team captain, gave a film viewing for the students to get inspired with the game.  Several positive mockeries and phrases were heard amongst the crowd.  Good vibes spread inside the film viewing room.  Coach JJ also explained the rules to the students who are participating.  He explained the Spirit of the Game, thus, there are no referees in the field. Honesty and good play shall always prevail.  His number one rule in the game is to "avoid contact at all cost."  He explained that it is a non contact sports so avoid hitting each other and respect their space.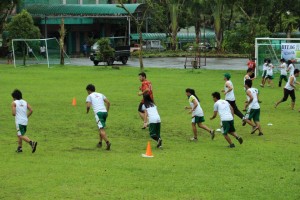 As the SLSU students got very excited, the energy got bigger as everyone went to the greens. Several coaches taught the newbies warm up exercises, basic throws, catches, offense and defense strategies, cutting and finally playing Ultimate.
What is Ultimate without the fun sideline antics, team meals and quirps?  Coach Gela's sleep deprivation totally took a toll on her but took frolicking with the rest of the team.  While the team's best discovery is the Yema Cake during the their lunch break.
Finally, SLSU students are ready to take the challenge and experience Ultimate fun.  They formed several teams to play with and against each other in a friendly battle.  For a newbie, they made more than a good job playing Ultimate.  SLSU players were able to throw decently, catch from a sky and layout, pass the disc to their teammates, D' their opponents and goal on end zones.
Then Bitag Team gave an Ultimate best paintball gun show by having a friendly game amongst each other.  There were a lot of mud layouts and hucks.  SLSU students were thrilled to see their coaches play the new sports that they have learned.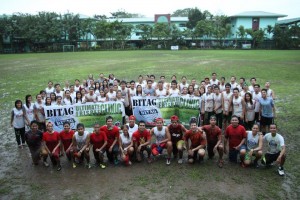 Kudos to the Bitag Ultimate Coaches!  Congratulations (from left to right) Coach Ricel, Coach Gela, Coach Xy, Coach Jeff, Coach YanYan, Coach Loven, Coach Kaye, Coach Ally, Coach Choy, Coach Sugar, Coach Pikoy, Coach wax, Coach Dawn, Coach Arnold, Coach Angel and Coach JJ.
For more updates, photos and news, Like them onFB https://www.facebook.com/BitagUltimateTeam
Special thanks also to Mrs Femi Yu (Coach Angel's mom), who was the team's foster mother during the event;  Coach Angel, who did most leg work to make the event possible, Michael Pua (Coach Kaye's cousin) and Sir Felix who were the team's contact for the school; Coach Choy who designed the event tarp; Coach Sugar and Coach Kaye for some of the team's meals; Coach Gela, Coach Angel, Coach Dawn, Coach JJ for driving wee hours while everyone is asleep; and Coach JJ who facilitated the event.