The weekend of Dabadaba usually land on Philippine's labor day weekend (May 1).  This 2015, the 5th Dababada got bigger and better with 35 teams coming in from Visayas and Mindanao. It got more exciting because it is also with Pacquiao vs Mayweather fight which is supposed to be the "fight of the century."
Suggested hotels near the venue are Lispher Inn, St Francis and Court View Inn.
The first day of the event is lively as the teams gathered for the prayers, national anthem and an intermission by some local dancers.  The game started with good spirits and dedicated players.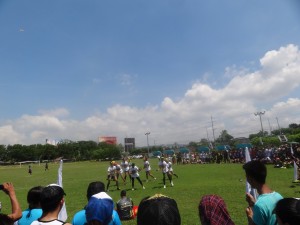 Followed by the second day, the competition got more exciting as the crossover started with which pools the teams will belong to.   There are 5 pools from Pool A to Pool E, being pool A as the most competitive.  In the afternoon, two fields looked like championship rounds as  Mulatto and Extreme (Dumaguete)  fought the crossover.  The second field was occupied by DDS and SSG.  Mulatto and SSG won with scores that were too close against Extreme and DDS respectively.  The championship remains to be unpredictable by which teams will occupy the finals.
Third and last day was the semis and the championship time.  SSG and Mulatto fought hard on the championship game.  They reached universal at 14 points until SSG caught the final point after several turnovers.  Nonetheless, Mulatto danced their hearts away as a tradition every Dabadadaba tourney.
Awarding and party happened after the final games on the field.  Dinner and beers were also provided right after the championship competition while a reggae band plays some up beat music in the background.   There were also side games done on their own from different teams.  DDS has been leading a side game where they make the challenger drink alcohol and turn them 10 times around in circle.  After that, they challenge the person to hit the bottle that contains their price.  The bottle contains money donated by several Ultimate players.
This is Dabadaba for you!  Fun, good spirits, semi- alcoholics and lotsa dancing.