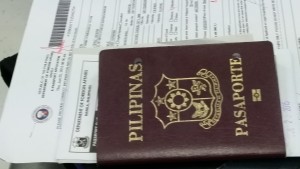 1.  Make an appointment on the DFA website. Choose the earliest time.  This will ensure that there is no delay due to the pile up of passport applicants.  When you arrive at your destination, be sure you have all the necessary paperworks ready like photocopy of IDs, old passports, application forms…etc…
2.  Arrive at the destination or your appointment venue at exactly 30 mins before your appointment.  For sure, there is a line of people waiting for their time of appointment. Guards are very efficient and helpful if you need assistance.  There will be a person announcing the reminders.  Listen to him/her and review what you have in hand.  Check your paperworks again.  If you need a photocopier, there is one in the vicinity but the queue is quite long.
3.   The process will start and it's very easy.  There are signs all over for you not to get lost.  The DFA logistics on this process is very good too.
Step 1:  Verification.Processing starts with the checking of your application and additional documents.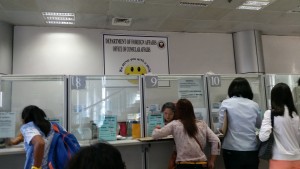 Step 2:  Payment.  Proceed to the cashier on the 2nd floor.  Pay rush processing if you need it in 10 business days and pay ordinary fee if you need it in 20 business days.  Note that there is quite a lot of issues on the late arrival of the passports.  It is highly recommended that if you really need your passport soon, get the rush service and add several days extra before you book that trip.  While on the regular processing, allow weeks or even a month deliver to ensure your passport is there.   This is if you do not have plans on going anywhere or use your passport in the near future. DFA passport customer service number also do not work.  If you have an urgency, go to their main office in Macapagal.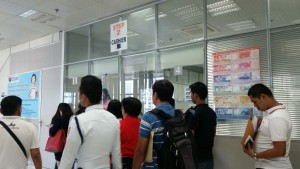 Step 3:  Encoding.  This is also on the 2nd floor near the cashier.  Your number will be called. Once called, go to the window assigned to you for data capturing.  This will include your thumb prints and photo.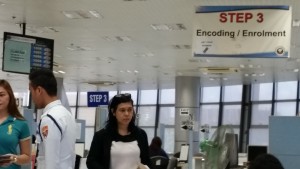 Step 4:  There is an option of pick up or delivery towards the exit of the 2nd floor.  If you wish your passport to be delivered to you, pay the extra fee and avoid the hassle.  Note also that this will cause some delays on receiving your passport.  Allow several days of waiting if you are not in a hurry.  Nonetheless, pick up your passport where you had your appointment set.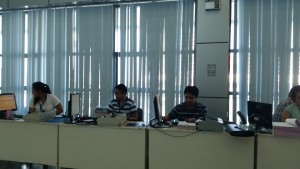 4.  You should be out of the DFA office in 1.5 hrs.