Calaguas has been gaining popularity as 'Boracay during the 90s.'  I could vouch for this as I walk upon the white sand of this island.  Although the usual style of most of its visitors is camping, there is another way to stay on this island.  Practically the most convenient and still very much in touch with nature is being in the care of Waling Waling EcoVillage.
From the same owners of Waling Waling in Boracay, which was sold several years ago, the family has now moved its concentration on the island of Calaguas.  Without a doubt, the Sacay family knows how to run a resort.
The Ecovillage offers 16 cabanas that are available to accommodate 6 day trippers and 4 over night visitors.  These cabanas have separate restroom which is common.  The restrooms are kept well and neat.  While the Kubol can accommodate 8 people for day tour and 6 over night visitors.  It has a spacious living room at the bottom and its own bathroom.
The materials used are natural and blends well with the environment.  You get the feel of the nature while being comfortable.  All of the guest houses are open air.    Every cabanas and kubols also have a great view of the vast ocean.  At night, a mosquito net can be requested to protect guests from insect bites.  There is available electricity only from 6pm to 4am run by a generator.  Don't worry, the generator is not loud and you can hear whistles from the nature.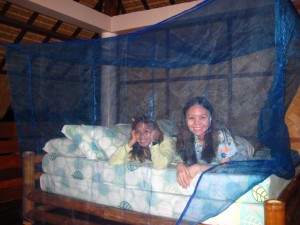 Food is also served at your convenience here.  They serve local dishes.  Our favorite would be Bicol's famous Laing and Bicol express.  They serve up to 4 viands including dessert.  Note that if you have allergies or preference on food, better call and inform ahead.  Calaguas is a pure island away from civilisation.  Ingredients must be prepared way ahead.
To know more about Calaguas and how we went here, click here.
Affordable rate for a fraction of the cost of going to other beach destinations.
Cabaña
P3,500/night (Max. 4 pax)
Kubol
For reservations:
Email:
walingecovillage@gmail.com | reserve@waling.com |walingecovillage@yahoo.com
Call or text:
Globe (0915 100 0000), Smart (0912 600 0000)