The Digital Strategies for Development Summit (DSDS) was held last June 8-10 2016.  This year they launched Innovative Strategies Development Summit or ISDS.
ISDS was presented by 60 valuable speakers all over the world who did presentations on current digital development in their area of expertise.  600 attendees were present to hear the seminar.  Networking was of high value and encouraged by the presentor.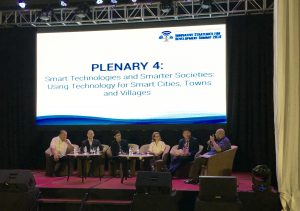 Innovative Strategies for Development Summit 2016 (ISDS 2016), designed to look at technology, particularly ICT, as an enabler for innovation and effecting developmental impact. ISDS 2016 will be global as it brings together a consortium of high level thinkers and leaders from various local, national and international key organizations. It aims to facilitate dynamic discussions, create connections, strengthen relations, and exchange knowledge on best practices in the use of ICT innovation in the context of Sustainable Development. -DSDS
The purpose of ISDS is to create connections and exchange creations.  The attendees of this said event are interested in the same topic which is digital innovation.  They are quite techs-savvy, comes from private and local sectors around the Philippines, part of the NGO,  IT practitioners and/or digitally curious.
One of the heated topics in the seminar is Korea Researchers presentation on how to improve digital divide in the country.  Korea is known to have faster internet and successful on providing accessibility of internet radio in their country.  He says that our internet routes are unnecessarily long.  A problem, the Philippines have to solve.
The World Bank also encouraged solving the digital divide.  A presentation was held from Skype and was quite clear on informing everyone what we need to solve digital divide.  A sudden internet connection interruption occurred and some funny remarks were mentioned.  Internet speed and availability must be solved.