The hectic days in the city of Manila leaves you feeling burnt and needing rejuvenation. There is a time when you wish to relax, ponder and do absolutely nothing.  If you are looking for a short getaway from Manila, away from the pollution, bustles and the crowd.  Clark is definitely one of the nearer place you can visit. With the NLEX and SCTEX as the major roads to pass, going to Clark has been easier.
Clear water, a resort inside the Clark vicinity, is my recommendation to ease your weekend. This way, you can come back recharged and energized. I stayed at this place with my visiting mom and pops from California. This has been a great place to bond for us.
We stayed at the known "Lakehouse" of Cleawater resort.  This place is separate from the other lodges.  It has its own view of one side of the lake.  You will feel the privacy and serenity on this side of the resort.
With privacy comes comfort and solitude.  The living room and bedroom provides cable TV viewing and  DVD player when you feel just watching.  WIFI is reliable, so no need to worry if you need to catch up on anything.  Preferably, not catch up on anything and just relax your day/night away.   There is also a kitchen with refrigerator by the living room.  Feel free to dine and wine on your stay.
My folks stayed in the presidential suite while I stay in the connecting room by the living room that is part of the Lakehouse.  The room I stayed in has two separate queen beds and its own cable TV.  It has also it's own bathroom with bath tub for privacy.
There are kayaks available to ride just in case you feel like strolling around the lake and enjoy the beautiful scenery of the resort.  Moreover, for another style of staying in this haven, lodges are also available.  There are more rooms for bigger number of people to choose from.
With ample space, there is an amphitheater built in the midst of it.  These are used for events such as weddings, small concerts and private parties for corporate and personal affairs.
Since we are in Clark, we just got to wine and dine with the famous Yats restaurant.  This was definitely a treat for us.
The next day feels absolutely energising.  To have balance from last night's sumptuous dinner, I opted for an early swim.  It is definitely nice to swim around and see the colors of green and blue.
After the swim, I called for my folks to have breakfast under a tree.  The service people drove them, using a golf cart, from the lakehouse to where breakfast was.  We were also gifted with good weather.  Truly, a splendid morning.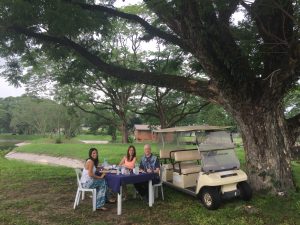 After a satisfying breakfast, we strolled around this 12 hectare space.  There are absolutely a lot of things to do around this vicinity.  Better, NOT do anything and just realise life!