How cool is Hotel Jen? They want you to enjoy their hotel made recipe at the convenience of your home. That is if you are feeling like a chef today or anytime you feel like it. Nonetheless, you can also enjoy these delish entree from Hotel Jen's windows by the bay. This awesome place is located at the top floor of Hotel Jen. It's also great to see the city atop.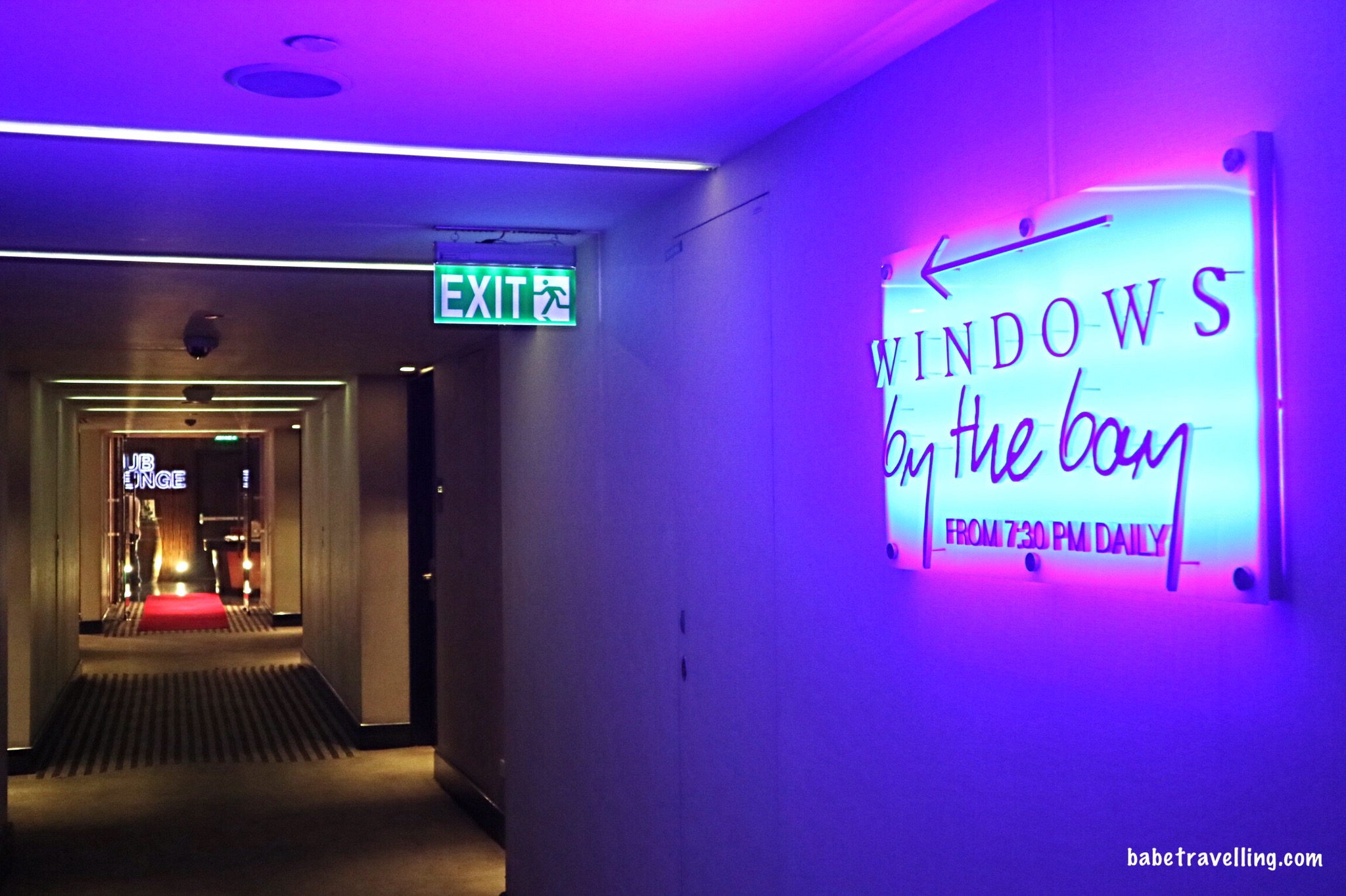 Here to eat a 5 course meal are Hotel Jen's GM, Edward Kollmer, 1st time in Manila Aussie tourist, Sam Truong and yours truly, a babe travelling. In confidence, we prepared are tummies for this meal.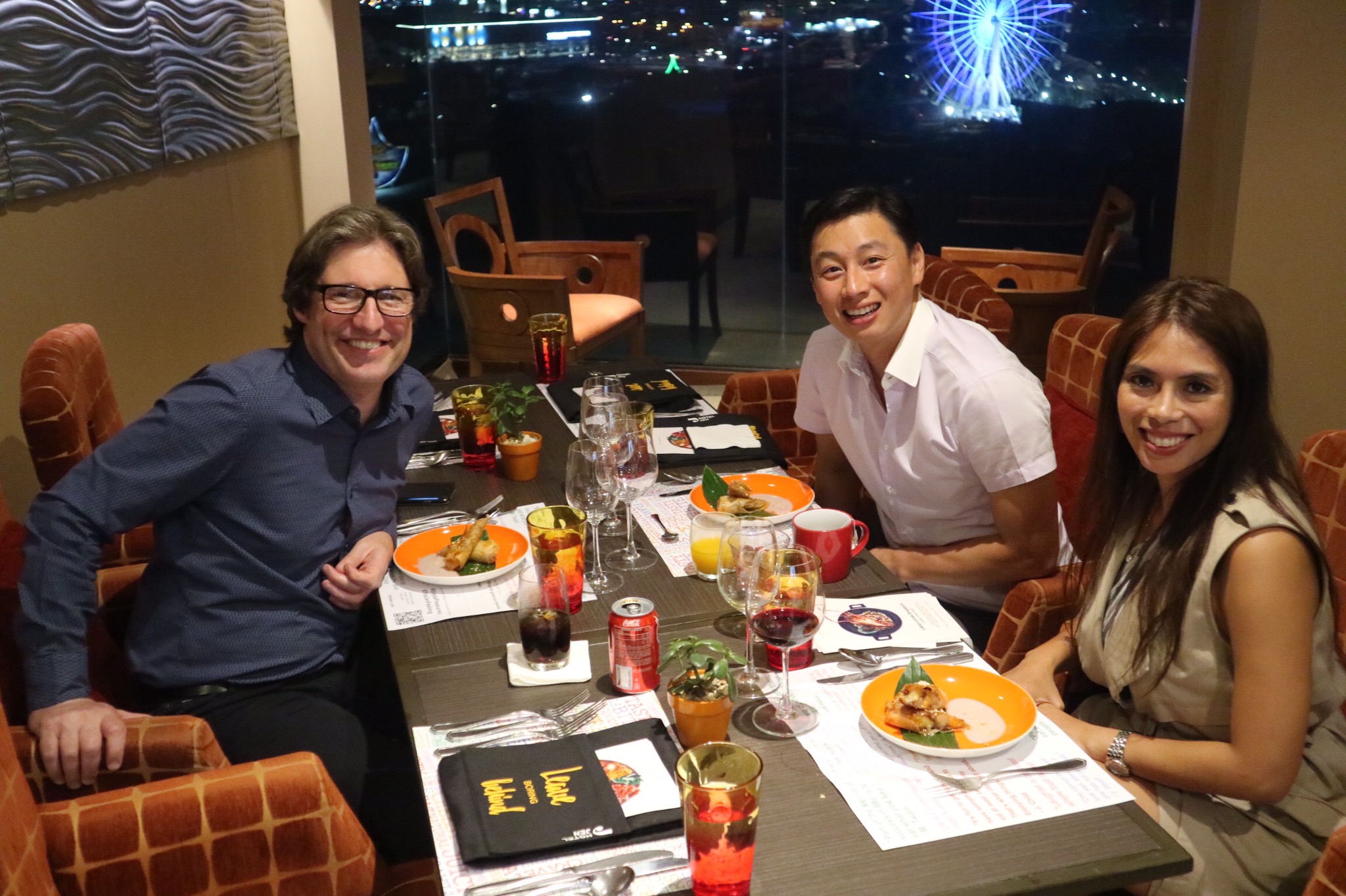 Without further ado, here are the recipes from Hotel Jen's around the world:
Hotel Jen Orchard Gateway Singapore brings
Laksa Lemak Singapura (Laksa Fried Rice)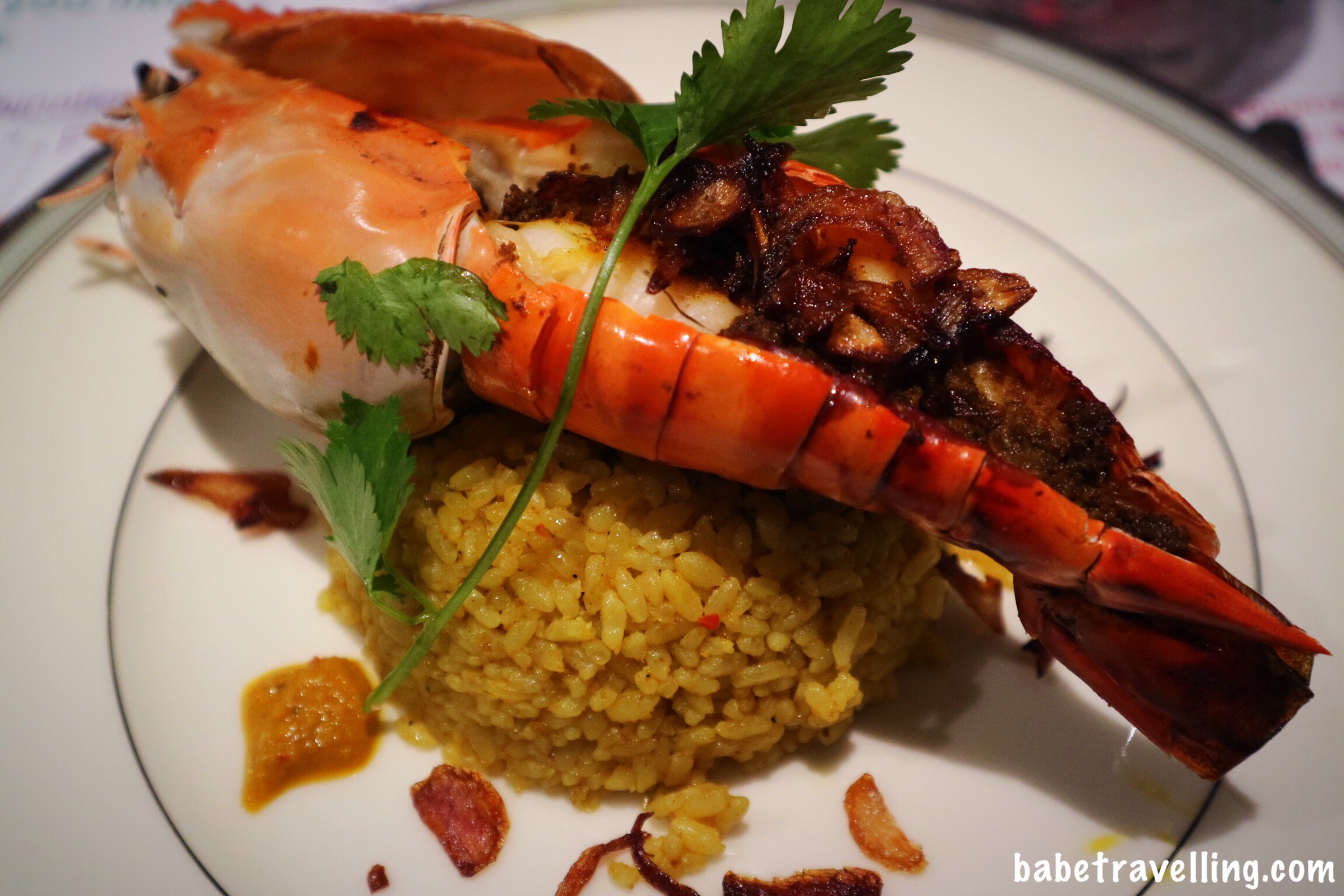 An alternative take on a classic Peranakan dish in Singapore, the wok-fried rice is infused with spicy aromatic laksa broth for a tasty and hearty meal.
SERVES 8 / PREPARATION TIME 2 hours / COOKING TIME 15 minutes
RICE
1 tbsp oil
1 stalk lemongrass
700g white rice, uncooked 2 pandan leaves 700–800g water
50g coconut milk




CHILLI SAMBAL
15 fresh red chillies
15 dried chillies
30g belachan (shrimp paste) 220ml vegetable cooking oil Salt to taste
LAKSA PASTE
100g dried shrimps, soaked 300g lemongrass, cut into 4cm lengths and lightly smash 300g small onions, chopped 50g blue ginger, peel and slice nely
30g belachan (shrimp paste) 10 candlenuts, blended
10 fresh red chillies, sliced
21⁄2 tbsp coriander powder Handful of kesom/laksa leaves 200g vegetable cooking oil Salt to taste
LAKSA FRIED RICE
8 king prawns
200g, fried bean curd, cut into small cubes
400g beansprouts
500g shrimps
200g sh cake, sliced
1. Rice
. Heat a pot over low heat. Add the oil and fry the lemongrass. Add the rice, followed by the pandan leaves and continue frying until it is well mixed. Add the water, bring to boil and let simmer. Add the coconut milk and cover the pot until the rice is cooked. Set aside, remove the pandan leaves and lemongrass. Let the rice cool to room temperature.
2. Chilli Sambal
. Blend everything together until the mixture is smooth. Fry the mixture in the oil over medium heat, stir regularly until fragrant. Drain the remaining oil for use later. Set aside the chilli sambal.
3. Laksa Paste
Drain the soaked dried prawns and dry well. Blend until roughly chopped, dry fry (with no oil) and
set aside. Blend the rest of the ingredients for the laksa paste until smooth. Add the fried shrimps to the blended mixture in a wok and fry over medium heat using the drained chilli oil from Step 1. Keep on frying until the oil rises to the top and set aside.
4. Laksa Fried Rice
Cut the king prawns lengthwise without separating it into half. Spread 1⁄2 teaspoon of the laksa paste onto the esh. Heat a pan to medium-high, place the king prawns with the meat against the pan and fry for about 2 minutes on each side. Cook until rm and set aside. Heat the wok, add the laksa paste and fry. Add the fried bean curd. Add the rice, followed by the beansprouts, shrimps and sh cake. Mix well. Top with a king prawn. Serve with the chilli sambal.
Hotel Jen Tanglin Singapore brings
Chili Crab Fondue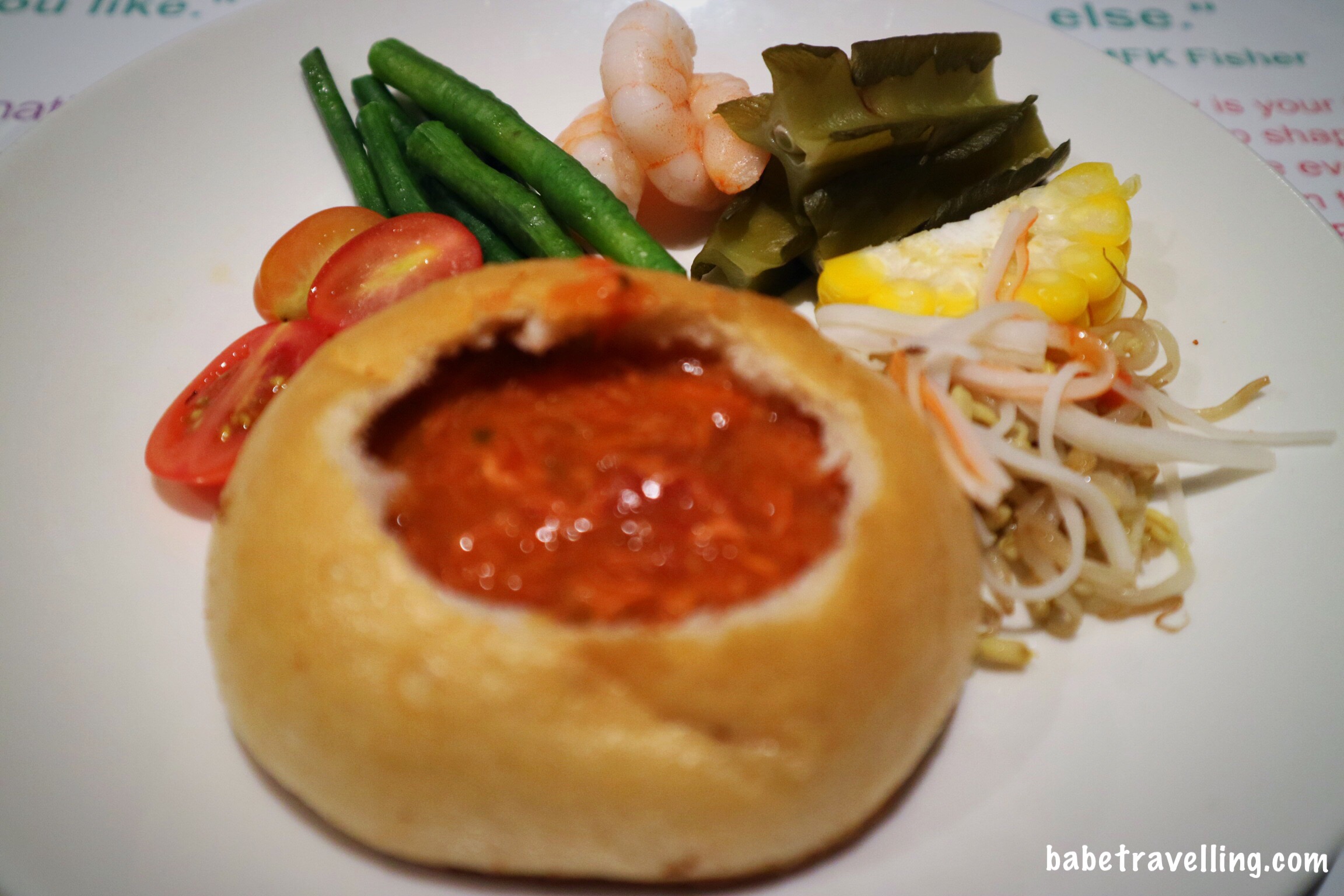 Ah Hoi's Kitchen's signature chilli crab is served with a twist, in a bread bowl, offering a fun yet practical take on this iconic Singaporean dish. This way, you can be sure that every single drop of its ery goodness will be savoured!
SERVES 1 / PREPARATION TIME 15 minutes / COOKING TIME 30 minutes
CHILLI CRAB SAUCE
1 tbsp chilli sauce 11⁄2 tbsp chilli paste 21⁄2 tbsp ketchup
1 tbsp sugar
1 tsp black vinegar
1 tsp ginger, chopped
1 clove garlic, chopped
1 stalk lemongrass, chopped 1 tbsp vegetable cooking oil 25g crab meat
4 tbsp egg white
Salt and pepper to taste
FOR DIPPING
1 (100g) white farmer bread bun, centre removed
30g crabmeat, shredded
2 tiger prawns, boiled and peeled Half a corn on the cob, steamed, cut in 2cm thick rounds, 20g bean curd, sliced and fried
20g tempeh (fermented soya bean), fried
20g iceberg lettuce, nely shredded 15g water spinach, blanched
15g winged beans, blanched
15g beansprouts, blanched
15g cucumber, sliced
10g long beans, cut into nger-long lengths and blanched
5g red cabbage, shredded
5g white cabbage, shredded
5 cherry tomatoes
3g coriander leaf, chopped, for taste
1. Chilli Crab Sauce.
Mix well the chilli sauce, chilli paste, ketchup, sugar and black vinegar into a bowl. Heat the wok and sauté the ginger, garlic and lemongrass until fragrant. Add the liquid mixture to the wok, lower the heat and gently stir in the egg white until the sauce thickens. Fold the egg and crab meat into the sauce. Season with salt and pepper to taste.
2. To Serve
Pour the chilli crab sauce into the warmed bread bowl and serve together with dipping ingredients.
Hotel Jen Puteri Harbour, Johor brings
Laksa Johor Slider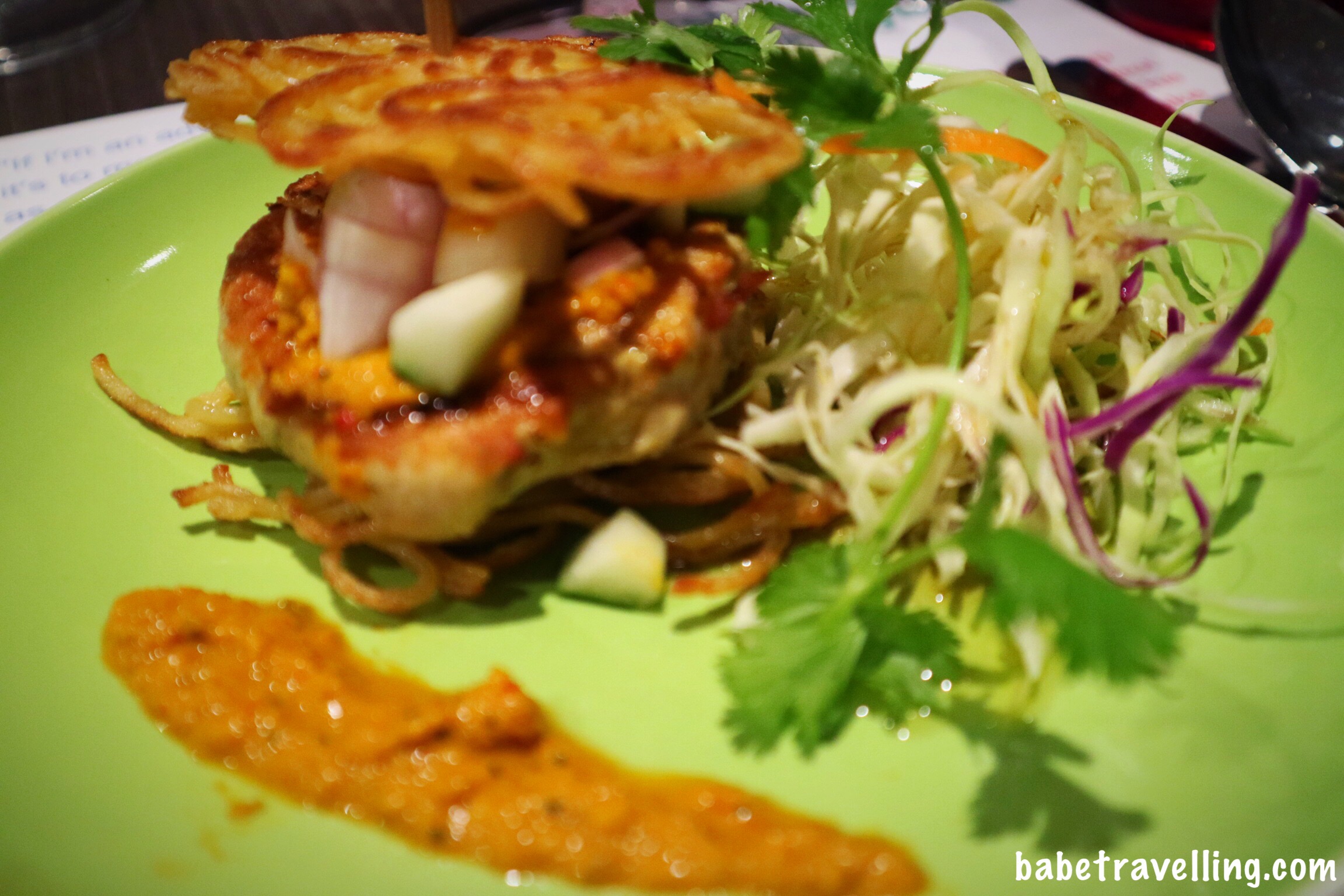 Inspired by Sultan Abu Bakar's visit to Italy in 1866, Laksa Johor is prepared with spaghetti and the locals eat it with their ngers. This crispy mini burger rendition offers a fun take on this popular dish and is perfect for gatherings.
SERVES 10 / PREPARATION TIME 30 minutes / COOKING TIME 20 minutes
SPAGHETTI "BUNS"
250g spaghetti
Water for boiling
Salt
Vegetable cooking oil for frying
LAKSA JOHOR PASTE
300ml vegetable cooking oil 500g shallots, minced
4 tbsp dried chilli, minced 2 tbsp ginger, minced
1 tbsp galangal, minced
1 tbsp lemongrass, minced
1 clove garlic, minced
250g curry powder
500g mackerel, deboned and nely blended
500ml coconut milk
5 tbsp white sugar
2 tbsp salt
MINCED FISH PATTY
500g mackerel sh, deboned and nely blended
10g Thai basil
2 tbsp sugar
1 tbsp salt
2 tbsp shallots, chopped 11⁄4 tbsp turmeric powder
1⁄2 tbsp ginger, minced
1⁄2 tbsp lemongrass, minced 1⁄2 tbsp cumin powder
1⁄2 tbsp dried chilli, minced
GARNISH
1 tbsp red onion, sliced
1⁄2 tbsp chilli, sliced
10g Thai basil
50g iceberg lettuce, sliced 30g cucumber, sliced
1. Spaghetti "Buns"
Bring the water to boil and add some salt. Cook the spaghetti until al dente and drain well. Put the spaghetti into circular moulds to make 20 "buns" of around 6cm in diameter. Put into the fridge to set for 2 hours.
2. Laksa Johor Paste
Heat the cooking oil at medium heat and fry all the minced ingredients until fragrant. Add the curry powder and continue frying. Add the mackerel sh, coconut milk, toasted coconut, sugar and salt and let it slowly cook until the paste thickens.
3. Fish Patty
Put all the ingredients for the sh patty into a food processor and blend into a ne paste. Shape the patty to around 6cm in diameter. Make 10 patties.
4. To Assemble
Heat the cooking oil and pan-fry over the
spaghetti "buns" at medium heat until crisp and lightly golden. In another pan, fry the sh patty over medium heat in the laksa Johor paste until the patty is cooked through. Place the patty on a spaghetti "bun", garnish and top with another "bun".
Hotel Jen Penang brings
Smoked Pulled Lamb Pongteh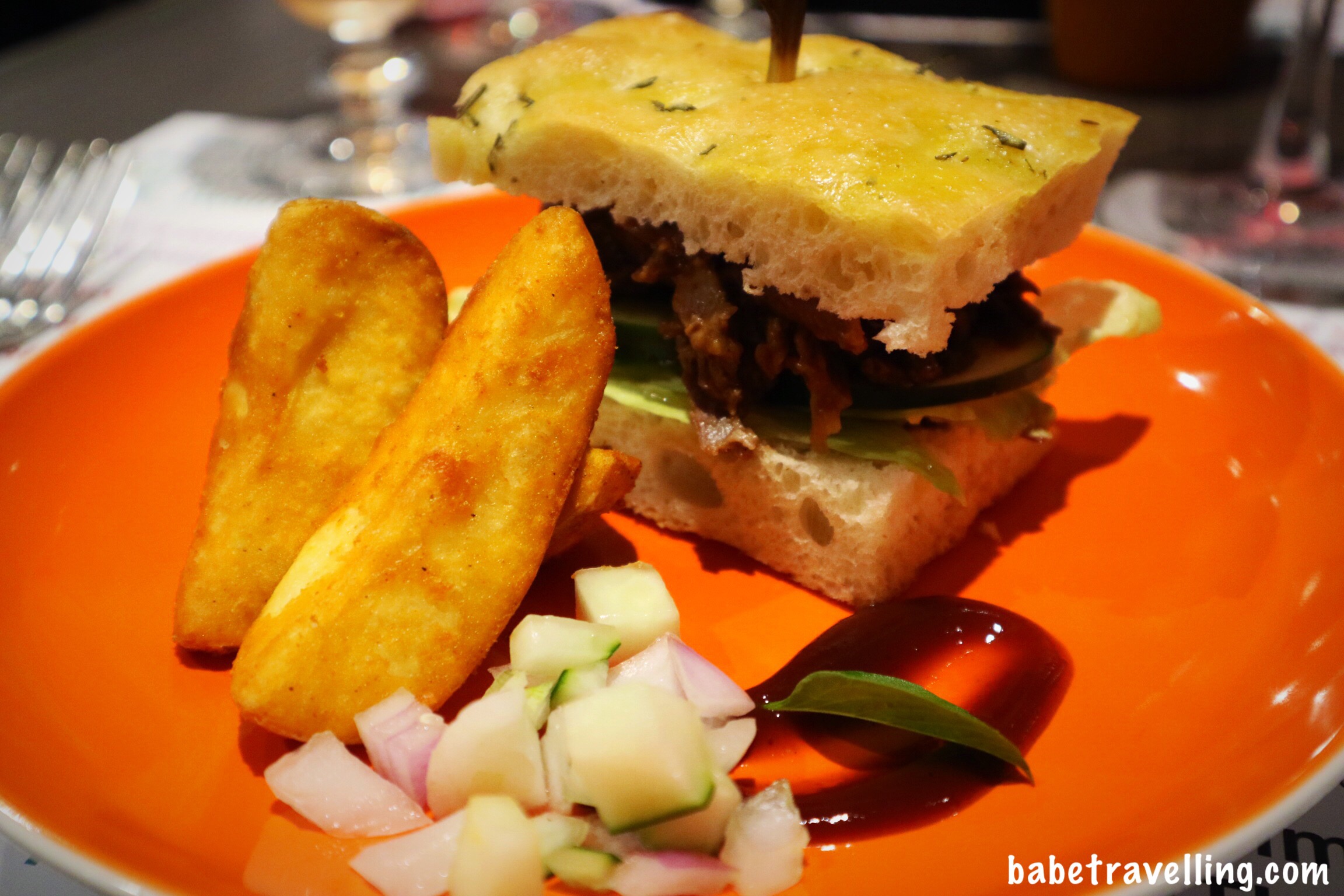 Chicken or pork pongteh is a classic Peranakan dish in Penang. This smoked lamb rendition is inspired by the hearty barbecues in Southern America. To soak up the delicious sauce, it is served with focaccia bread and potato wedges with the ubiquitous Chinese ve-spice powder.
SERVES 9 / PREPARATION TIME Overnight / COOKING TIME 6 hours
1.8kg boneless lamb leg
150g Chinese parsley, chopped
PONGTEH SAUCE
1 medium white onion, peeled and chopped
5-6 cloves garlic, peeled and chopped
31⁄2 tbsp corn oil
300g bean paste
1⁄4 tsp dark soy sauce
11⁄2 tbsp palm sugar
1 tbsp concentrated chicken stock 11⁄2 tbsp Hickory BBQ sauce
2 tbsp Hickory liquid smoke sauce 11⁄2 tbsp ve-spice powder
1 tbsp potato starch
POTATO WEDGES




750g potatoes, cut into wedges Vegetable cooking oil, enough for deep-frying
Salt and ve-spice powder for taste
FOR SERVING
600g focaccia bread, sliced
500g garden tomatoes, sliced thinly for garnish
1 medium cucumber, thinly sliced for garnish
1. Pongteh Sauce
. Sauté onion and garlic in a casserole with oil for
5 minutes at medium heat. Add bean paste, dark soya sauce and palm sugar. Add chicken stock and bring to boil. Lower to medium heat and add the two Hickory sauces and ve-spice powder. Let simmer for 7 minutes. Thicken with potato starch into a smooth sauce.
2. Smoked Pulled Lamb Leg
. Marinate the meat in the pongteh sauce overnight in the fridge. The following day: Pre-heat oven at 175°C and roast the lamb for 1 hour. Lower the temperature to 100-110°C and let the lamb continue to cook for 5-6 hours. Remove from the oven and pull the lamb meat into thin shreds with a fork or tong. Toss the shredded meat in the remaining pongteh sauce and chopped Chinese parsley.
3. Potato Wedges.
Boil the potato wedges for 5 minutes. Drain well. Fry the potatoes in hot oil. Remove and sprinkle with salt and ve-spice powder.
4. To Serve.
Top the focaccia bread with cucumber, tomatoes, smoked pulled lamb pongteh and chopped Chinese parsley. Serve with the ve-spice potato wedges.
Hotel Jen Manila brings
Ginataang Turon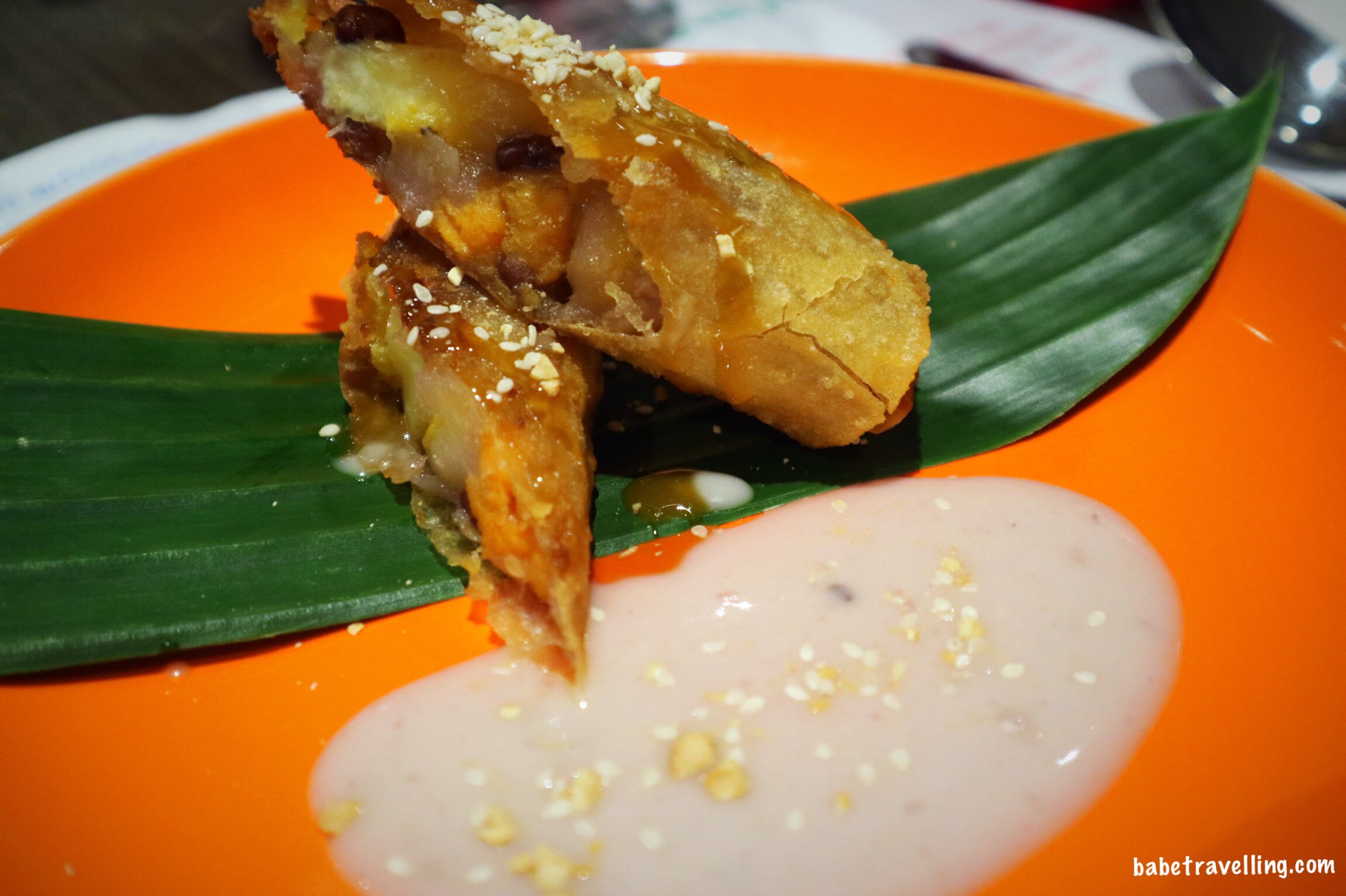 People in the Philippines have a penchant for sweet desserts. This delectable treat combines two popular Filipino mid-day snacks: Ginataang halo-halo (glutinous rice balls, tubers and tapioca pearls in coconut milk) and turon (banana fritters), for a satisfying end to a meal.
SERVES 2 / PREPARATION TIME 10 minutes / COOKING TIME 10 minutes
GLUTINOUS RICE BALLS
50g glutinous rice our 450ml water, divided
GINATAANG TURON FILLING
270ml water, divided
1 plantain, diced
70g sweet potato, diced
40g macapuno (coconut sport), thinly sliced
30g tapioca pearls, cooked
30g jackfruit, thinly sliced
20g ube halaya (purple yam jelly) 200ml coconut milk
2 tbsp white sugar
1 tbsp corn starch
FRITTERS
4 sheets spring roll wrappers
1 plantain, cut into 4 long strips 11⁄4 tsp cashew nuts, roasted and coarsely chopped
21⁄2 tbsp white sugar
2 tbsp water
500ml vegetable oil
GARNISH
11⁄4 tsp cashew nuts, roasted and coarsely chopped
1⁄2 tsp black and white sesame seeds, roasted
1. Glutinous Rice Balls
Combine glutinous rice our with 30ml water. Shape the dough into balls of around 1-1.5cm in diameter. Bring the rest of the water to boil in a pot. Add the glutinous rice balls. When the balls oat to the surface, remove, drain and set them aside.
2. Ginataang Turon Filling
Pour 240ml water into a pot and bring to boil.
Add plantain and sweet potato, let simmer until they turn soft. Add the macapuno, tapioca pearls, jackfruit, purple yam jelly and cooked glutinous rice balls, followed by the coconut milk and sugar. Simmer for 5 minutes. Make a slurry by combining the corn starch and 2 tbsp of water. Add half of the mixture into the pot and set aside the rest for step
3. Mix well and let it thicken to a chowder- like consistency. Remove the pot from the heat. Transfer to a stainless steel food pan. Cool the mixture using an ice bath and set aside 1 tbsp of the sauce for drizzle later.
4. Fritters
Prepare the spring roll wrappers on a at surface. Spread the ginataang turon lling across the centre of the wrapper, top with a strip of plantain and cashew nuts. Roll the wrapper tightly and secure both ends with the slurry corn starch mixture. Deep fry the rolls in a pot of vegetable oil at high heat until they turn golden brown. Remove and drain excess oil.
5. To Serve
Caramelise the sugar in a pan over low heat until golden brown, add the water, mix well and drizzle over the fritters. Let the sugar set a little before slicing. Pour the ginataang turon sauce over the slices. Garnish with the cashew nuts and sesame seeds.
Get set and wear your apron. Leave boring behind!