I was in San Francisco, when I decided to fly to Kauia while I'm visiting the island of Oahu.  Since, it was pretty busy and Hawaii is familiar to me,  I decided to do my research and bookings when I have landed in Kauai.  While things don't change much in Kauai, sometimes, it's better for me to decide when I get to the place.  I play by guts on this.  Some places are better booked ahead.  Some places are better off deciding when you land.
So here I am with the brochures, magazines and maps from the airport.  I will be choosing what I want to do for 2 days.  I stayed in Marriott Coconut Beach for this trip.  I chose a hotel during this trip rather than an airBnB because I needed help with more things like bookings and a restaurant nearby  that I can count on anytime.  This place is also nearby Longs Drugs for my emergency needs.  They also have concierge to help with the trip.  Last and a bit more important, they give free lava flow cocktail.  It's quite famous in Hawaii so don't miss it.   Kauai has spread hotels and shops.  It's really not meant for pedestrians so don't plan on walking around.
The first thing you should do when you get to Kauai and planning on going around the island is to rent a car by the airport.  Taxis here are expensive just like in London, while Uber is not a far price from the cabs.  Yes, there is Uber in Kauai which started last March (2017).  I had a great experience with it since the cars I rode are quite comfortable, a set up F150 and a Mercedes Benz e-class.  You might want to book your rental car online ahead since the cars are limited and the choices are not too vast like in other cities.
The first thing I did after I got the car was drive to Wailua Falls.  It's an 83 foot majestic waterfall.  I would not dare jump on it but would rather appreciate its scenery.  You can  go to the bottom of it but the path may be slippery and muddy.  Always go on a buddy system whenever you try something out of the ordinary.
Then I drove more for the sunset towards the Northern part of the island.    The drive is such a beauty seeing all these greeneries and the cliffs towards the vast ocean.  Just follow Route 56 to get you to the North.  It is not hard to drive around since there are not much roads and the signs are pretty much viewable. 
Another funny and awesome thing about Kauai are the roosters that roam freely around the island.  You can see them everywhere.  By the parking lot, on the road, sometimes on the beach and around the hotel.  One time it almost ate my food.  My friendly table neighbour just shooed it away.
Featured by Conde Naste as a hidden gem of Kauai's North Shore, Hanalei Bay has one of the best sunsets in the world.  The place is quite magical.  Vast golden sand spreads widely and plenty of space to sit around, feel the sand and see this great view.  Yachts afloat all over the sea making the view even more perfect.  The sun sets and turns the sky into this beautiful golden colour that matches the sand.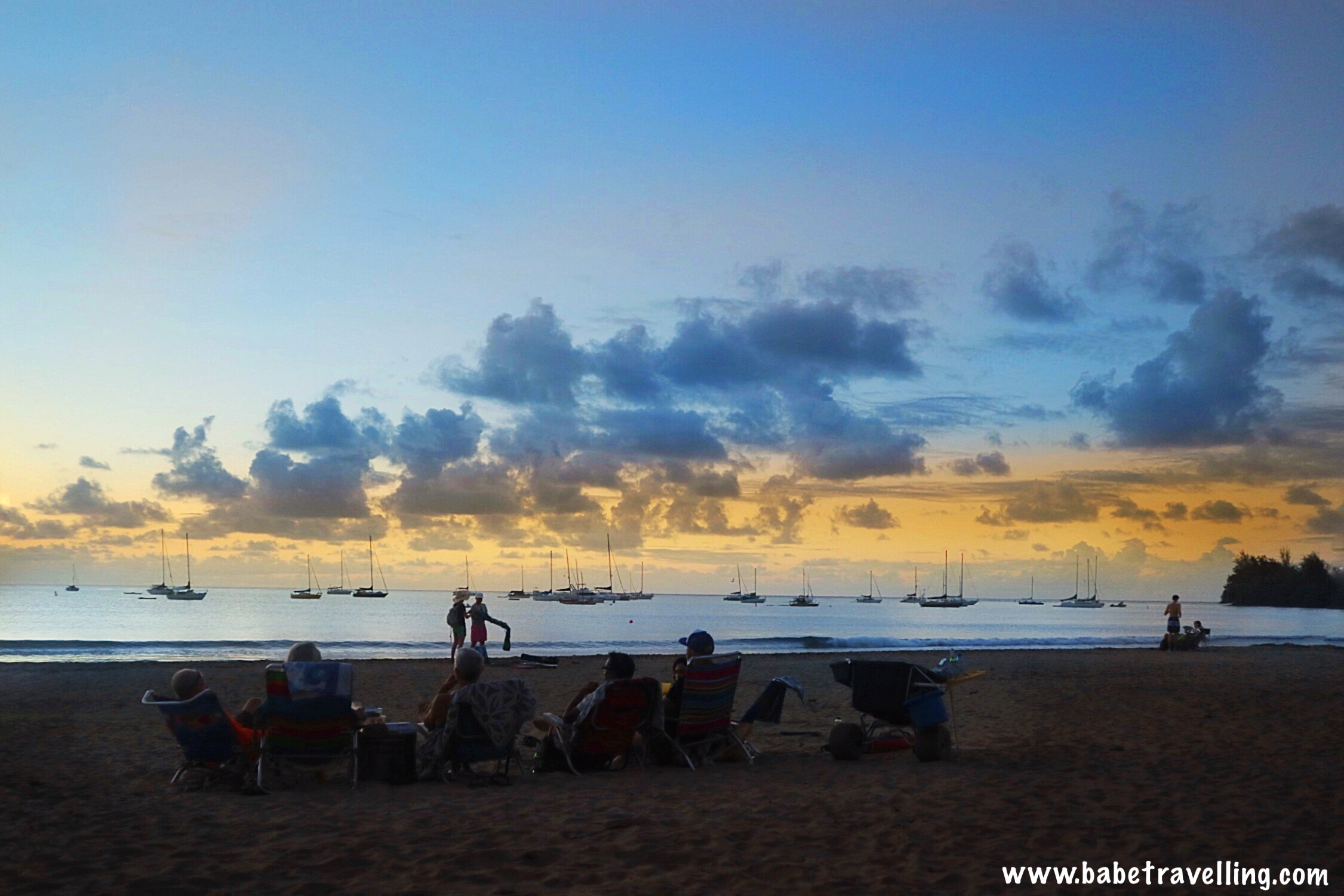 On the other end is the amazing view of the mountains.  They look perfectly made.  At the bottom, very green and luscious coconut trees.  It is a public park with clean showers and rest room, in case you need to clean yourself before riding the car.  Avoid that sticky feeling after you have decided to take a dip in the warm water.  The vibes of this place is excellent.  Good people having the same goal as yours.  To see a magnificent view of the sunset.
After the sun sets and the sky turns dark, I am sure you will be hungry,  I highly recommend this restaurant called The Dolphin.  It is found at the main street towards Hanalei Bay.  You might have passed it from your drive from Princeville.  Since this restaurant is quite popular to both locals and tourists, there could be a 20 minute wait.  I usually go straight to the bar since that is free seating.  The sushi table is almost always full.  I take that back.  It's ALWAYS full.  
I ordered the Dolphin Poke bowl for starters.  It comes with Taro chips, fresh salad and the freshest tuna.  The fish is bathing in creamy coconut lemon grass sauce.  
Then I ordered some sushi.   This unagi sushi tastes so light and fresh.  Unforgettable!
You can always judge a Japanese restaurant through its Uni.  This restaurant came with flying colours.