History unfolds that the first Chines conveniences store in New York was established on 32 Mott street.  This led to the first Chinese community in the city.    As time passed by, this establishment turned into a Chinese restaurant.  Mott 32, a specialised popular global chain seem to be consistent in its food standards that is why I got very excited to finally dine in here.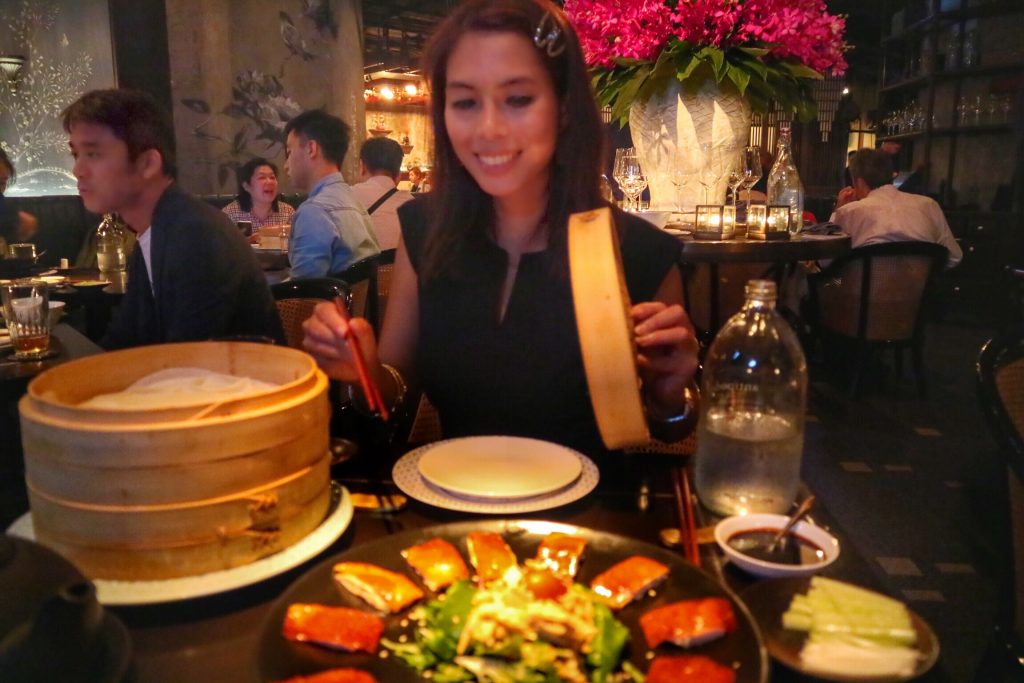 From the MTR, you can go down to Central and exit to the building of Standard Chartered.  Enter the beautiful  building of  Standard Charted and it will lead you down the basement to the restaurant.  The walk is quite a nice experience too. A concierge will assist you inside and you can leave your coat, umbrellas or extra things that you have with them.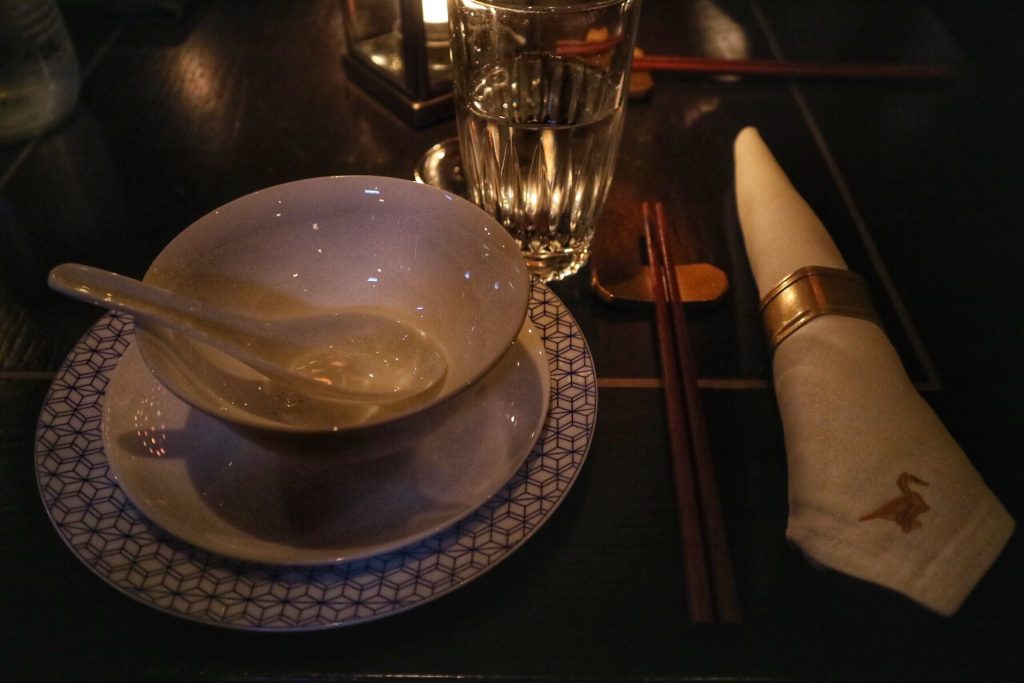 Above is the set up before starting to eat.  You could already feel how classy this restaurant is. Below is the list of dishes we ordered and how I feel about them.  We started, of course, with appetisers. 
 The crispy air dried Angus beef was served first.  It looked really good as it was being served to the other table so we better have a chance to try it as well.  At first, I thought it would taste like a crispy beef jerky.  Mott 32 put a twist on it by adding Schezuan spice.  It numbs your taste buds a bit.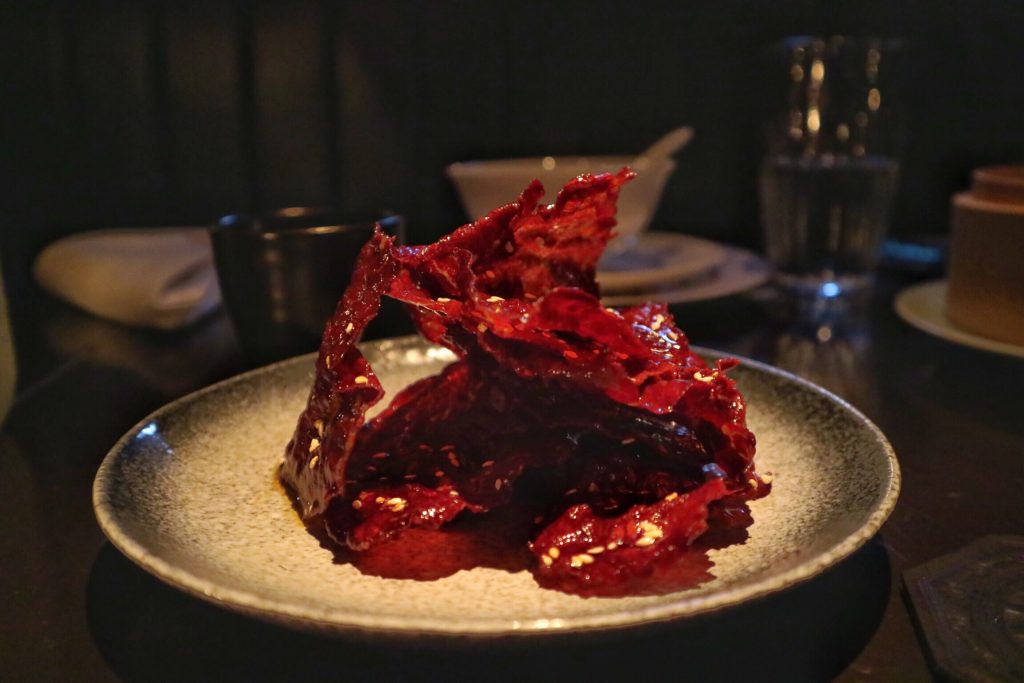 The Soft Quail Egg, Iberico Pork, Black Truffle Siu Mai is probably my favourite dish for the evening Dimsum.  It's a great appetiser because it makes you wanting for more.  The ingredients were made just perfectly together.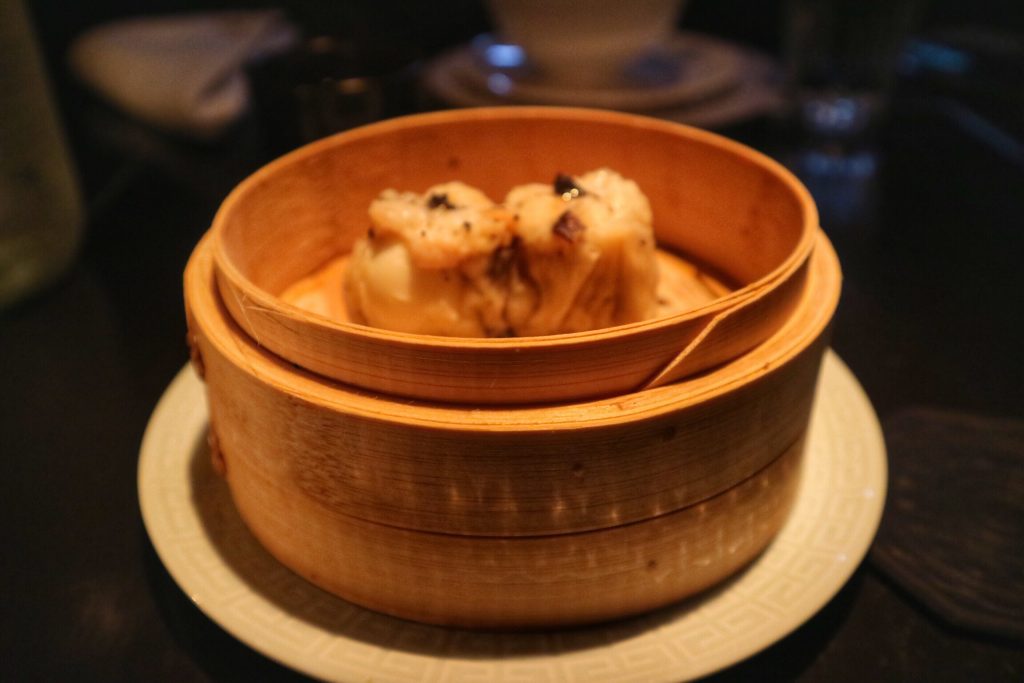 The South Australian Lobster Har Gow, Yunnan Ham is a nice addition for our evening dimsum.  It's quite different because you get to inject lobster oil inside the dimsum.  After the truffle from the siu mai, it's quite hard to decipher th taste of the lobster oil.  I suggest having a bite of this first for you to appreciate it.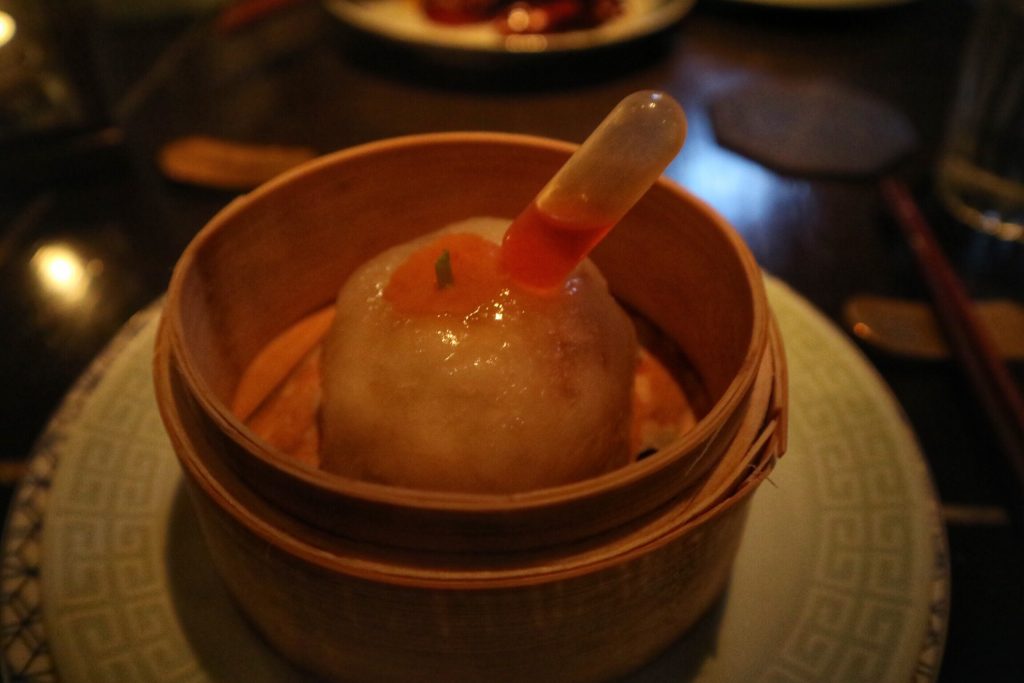 This Traditional Iberico Pork Shanghainese Soup Dumplings is another favorite of mine.  Be sure to eat this with a spoon because as you poke or take a bite from this dumpling hot soup will come out from it.  Give it a minute or two also before taking a bite on it because it could be quite hot.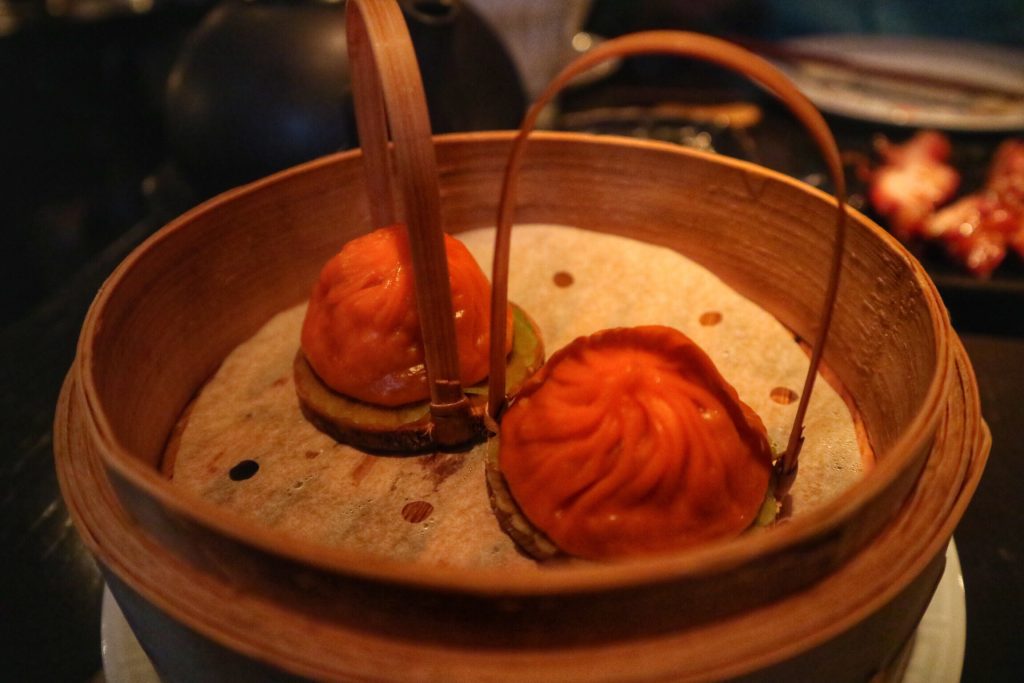 The appetisers did a good job but there's still space for mains.  The popular roast duck is limited everyday and we did not get to have a share of it.  Another limited dish that we had is the Barbecue Pluma Iberico Pork, Yellow Mountain Honey.  This is a very good dish to have and I will say that the taste remains in your head.  Nonetheless, it's not something I would go head over hills for.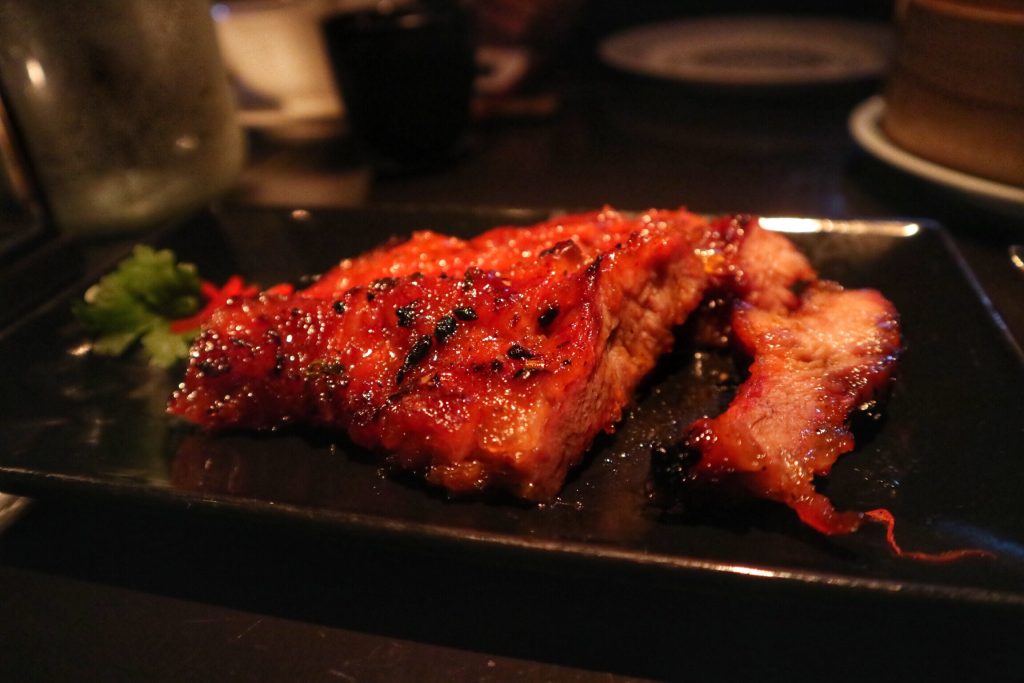 The Alaskan King Crab Casserole, Crab Roe, Vermicelli is another super good dish to have and if paired with the Iberico Bbq it would be a perfect meal.   On its own, it's still very good.  As the Chinese would serve it, the carbs is the last to eat. It's a filler.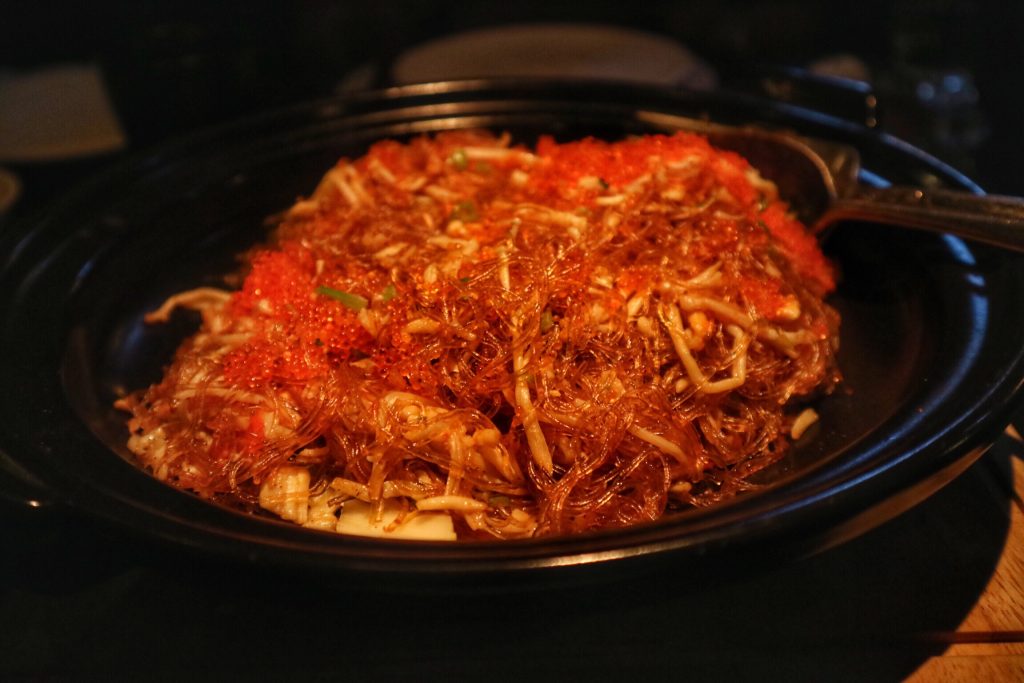 Since the Peking duck is not available, we were recommended the Peking Chicken with Mixed Salad.  It also comes with a wrap, side veggies and sauce as how a Peking duck is served.  It would be hard to ask me if their taste come near each other because I have not tried their duck version.  This dish is quite wonderful and really good as well.  Again, I would not go head over hills over it.  They said I would go gaga on their duck though.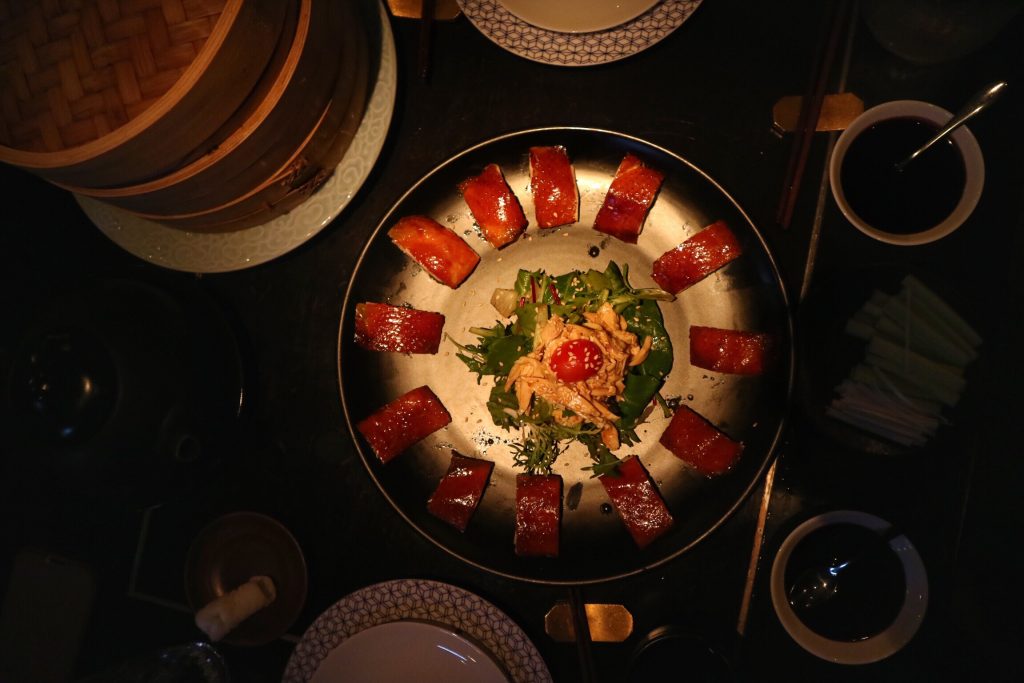 That was an exemplary meal.  Since the dishes are quite small, I still have room for dessert.  We ordered Rose & Valrhona White Chocolate Panna cotta, Lychee Sorbet, Raspberries.  It definitely is a long name for a panna cotta but it sure is a very suprising great dessert.  At first, I thought it would taste like any other panna cotta but this one is quite sumptuous. They also added homemade cookie which they did not include in the title but you could feel the crunch in some of the bites.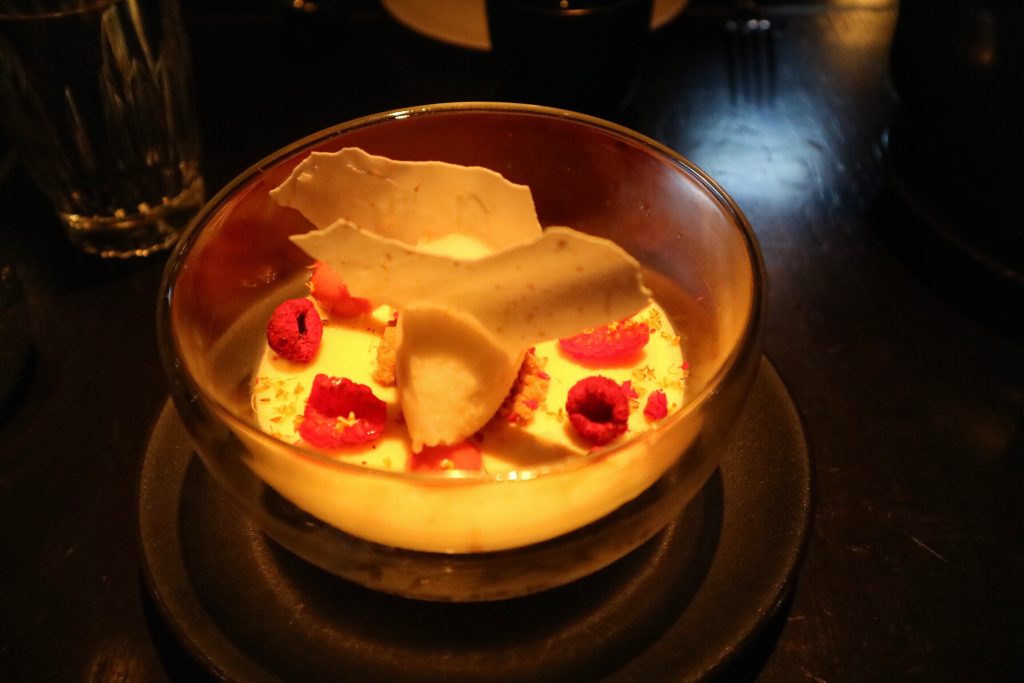 Here is a quick cookbook or outfit ideas during mrs tay in HK.  I also featured Mott 32 here:
Overall, Mott 32 lives to its standard of classy Chinese cuisine.  The service was great.  Not perfect because of some language barriers but the staff did well on serving us.  Also, I would not want to ruin your meal with a toilet photo but the loo is a fun visit because of their 1920s theme.