My mom celebrated her 60th bday during Coronavirus pandemic lockdown. All the restaurants are closed and it is not allowed to have a gathering of more than 10 people. Of course, it was very sad for us since my mom never really had a a celebration and turning 60 would be nice time to have a big party.
One thing humanity has is adversity. We're built for it and we try to do our best. My mom knows she will have a zoom party, a cake and some food. She did not know that there will be more than that. Here's how we celebrated her party:
A week before my mom's bday I ordered a 60th birthday decoration from Amazon.
It has to be rose gold since it's an apt color for her. It's stylish and trendy. This set has white, rose gold, and transparent balloons. It has a rose gold cake topper, a happy birthday banner and a 60 & fabulous sash. It also includes a glittery rose gold backdrop. This is perfect for a photos. Lastly, it has champagne bottle and glass plus 6-0 mylar balloons. This is the whole set: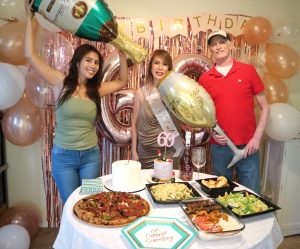 On the day of her birthday while she was leaving for work, we set up the decorations. I used pumps for the balloons that I also got from Amazon. Here's the link:
This is a simple and cheap pump and it does the work. You can go fancy if you want, there are assorted kinds. It might be easier if you go for the extra accessory that ties the balloons at the bottom.
I also ordered a cake from Half Baked and Co from Burbank. I ordered a customised cake that resembles her invitation.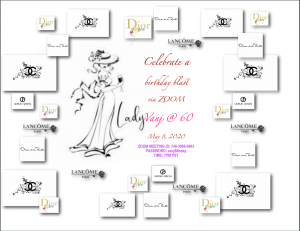 It was a cake with lipstick toppers. The total is 103$ for this cake. It was simple and elegant. The cake topper is from the Amazon that was purchased with the decoration. The Rose bottle is a stock in the house and the wine glass is also from Amazon. It's an etched glass perfect gift for a 60 year old.
I also bought a TP (toilet paper) cake since it's quite popular for quarantine birthdays. I had the baker write "You are essential" for fun.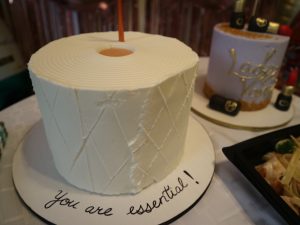 The food came from BJ's restaurant and brewhouse. They have a feast menu good for 4. We spent about 50$ for a pasta, bread, pizza and salad menu. The kebab came from DTLA. The special paper plates were from Ralph's.
There you go! It's quite a weird world right now so here we are trying to keep it sane. Grateful of what we have access right now 1. Open Restaurants 2. Amazon 3. Open bakeries 4. Zoom and the most important 5. Family and Friends online and offline.