Being the bride and preparing for her wedding is quite stressful. It is an instant weight loss regimen before the wedding but an unhealthy way to shed those pounds. A must have to de-stress is the bachelorette party to remember. This is the day/night to celebrate being single with your lady friends before you become a married woman.
Turn bridezilla into glowing bride, your entourage will come for rescue!
In celebrating your hen party, you need:
1. *Food, booze and props.  Identify the number of attendees and prepare food and drinks appropriate for the number guests.  Props help too to make the party themed.  Dick-shaped straws, napkins with different sex positions, dick-shaped gummy bears and a themed cake will definitely set the mood for a bachelorette party.
2.  Entertainment.  Get some good music going.  Prepare games that everyone will enjoy.  Dress the bride with tissue, newlywed game, pin the man, "I never had" are some of the hen party games to do.  Hiring a professional **entertainer will also make the party awesome.
3.  Of course and more importantly, the bride-to be!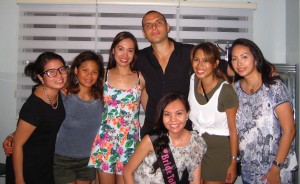 Footnotes:
* Food came from Party wheel.  The owner is know for her cooking skills.
**Entertainer and some props came from www.manilasecrets.com