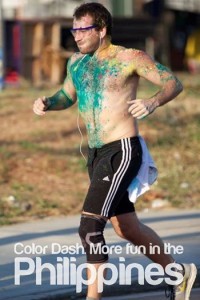 Color Dash upped its game last March 2, Sunday on its second year. This time, it
was presented with the Call Center Association of the Philippines. Sixteen (16)
colors dashed more than 5000 agents with family and friends.
The event started early in the morning with a warm up led by two fit ladies,
Michaella Recto and Andrea del Rosario. The crowd had a great time doing
their stretches buckled up with inspiration to get fit. As the gun start was
fired, everyone was blown with colors at the start line. They were dashed with
several colors throughout the course. When they reached the finished line, the
sponsor booths were ready to accept them. Several fun photo booths can be
seen together with fun games like a sports drink bong by Easy Taxi while Manila
Water had a roulette to give each spinner a prize amongst the other exciting
booths.
The official program was hosted by Sam YG, a popular radio DJ. He also did the
countdown for the final throwing of Color dash Powder. This segment is done
by gathering everyone with a handful of Color Dash powder and throwing it up
simultaneously in the air as the countdown ends. Indeed, a very picturesque
affair.
Last but not the least, through Color Dash, CCAP donated 1Million pesos for the
Yolanda victims. This was truly heart warming. Color Dashers clapped their
hands at the sight of the check.
The Color Dash 2 Recipe:
2 tons of a dash of multiple colors in every kilometer (16 colors)
5K walk/runway
5000 Fun runners (Amusing call center agents with their family and friends)
Numerous Wicked sponsors (More outrageous is always better)
1Million Pesos for Yolanda rehabilitation program