If you reside or work by Bicutan area, you are such in luck to have a luxury salon just minutes within your area.  This establishment is quite the precious as it has every girl's needs in terms of nail spa.  They have hand spa, foot spa and all the nail polish color you want  Their brands run from regular brands to OPI, Essie, Chanel and a lot more to choose from.    They also offer waxing for your eyebrows, upper lip, arm pits and Brazilian.
It was quite a drive for me but out of curiosity, I wanted to see different creams that aren't offered at any salons near me and try their glow in the dark gel polish.   Since I'm feeling like a princess, I also tried their hand spa and foot spa.  The hand spa that I tried is the nourishing and hydrating kind.  This is inspired by Queen Cleopatra.  Cleopatra's skin secret is bathing in milk to achieve flawless skin.  With almond extracts and Vitamine E, this treatment will exfoliate, repair, and revitalize damage skin.  Expect a softer and smoother finish.  I did, not just for the day but also for weeks.  In fact, my KP (a form of skin irritation) disappeared.
It was worth coming here.  My  feet never felt this good.  Maybe it's my new Fitflop. Of course, I also owe it to the clarifying treatment offered by Luxe aura.  The mix dead sea salt, lime and mud exfoliates and replenishes your skin.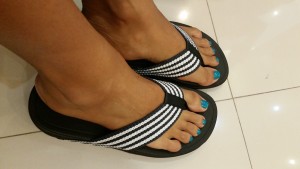 The owner of the salon happens to be an ob-gyne.  Her clinic is right beside the salon.  For pregnant ladies, she offers natural nail polish. Yes, they offer organic. She also uses salon software that helps keep records of here clients, not a lot of nail salons offer this. Such a pleasure, indeed, to have visited this off track salon. Off skyway from Makati, this stop is not so far away.  Visit their website for more info.