I'm loving my FitFlop Surfa!  I practically use it everywhere.  I use it for malling, beaches, running errands and all of my summer travels.  Fashionable and comfortable are musts for a hectic schedule.  It must be the most comfortable slip ons because of its technology.  Further, it gives me height which most petite girls would appreciate.  Due to its comfort, it makes me walk longer.  Walking with it has been an extra workout to lessen that fat percentage (a goal for the "I want abs challenge"  that I joined recently).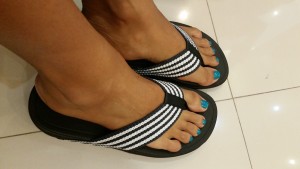 As a 7 year old company,  Fitflop has its advantages.  It has become an expert.  Using it's 3 awesome technology:
1.  It's triple-density technology can disperse areas of high pressure
to provide instant relief to your feet.
2.  A bevelled, dense-elastic EVAcontact point ensures SUPER-CUSHIONED heel strike
3.  Vertically segmented, triple-density, ergonomic design increases foot-to-midsole contact and promotes pressure diffusion
FitFlop Surfa also available in other colors: