I must say dinner was great in this prime restaurant in the neighborhood of Rockwell.  It was a fine night of food, drinks, company, ambience and crowd.  8 Rockwell has the one and only restaurant right at the ground floor of their building.  The look of the place is a bakery turned into fine dining.
As you enter, the place has a one of a kind design.  On your far left are the bread collection, kitchen and cake selections.   You walk a little bit from it and you can be seated at the bar with assorted wine and alcohol beverages.  On your far right corner is the wall of fame for Solstice.  You can find photos of people who has enjoyed dining in their restaurant.  While if you look up, the music welcomes you with the musical band.  They are usually composed of a pianist or the three-men string band. These three men go down from their stage and serenades the crowd per table.  Also found in the upper deck is a function room good for 35 people.  Reservations required to sit here.
Hungry?  It's time to sit down and eat Solstice' specialties.  Let's start with the soup.  I highly recommend the wild mushroom soup served in a bowl of sourdough.   My second choice would be the French Onion soup.  It's a tad salty but still enjoyable.  Both are priced at P380.
There are only 2 salads available here.  They are the Summer Solstice and the Winter Solstice.  The former is composed of tropical fruits and vinaigrette dressing at P420 and the latter is their version of Caesar Salad at P490.
Then comes the appetisers.  My favourite would be the squid and chorizo at P420.  The bread is perfect for to dip in that unforgettable sauce.  Running second is the beef salpicao at P580.  Beef is tender and delicious.  The cheese pizza is not yet in the menu but I'm lucky to have tasted it since the chef is in the mood.  This is great for sharing.  They also have this crunchy fries that should not be missed and must be shared.
Here comes the mains! These 3 dishes are my favorite.  From left to right, we start with lamb chops.  It literally falls off the bone when you slice.  Paired with mashed potato and veggies.  It is such a great dish.  Then the Braised short ribs is at P840.  The tender beef and sauce is so good.  It is paired with veggies and mashed potatoes.  Another main is the beef medallion which is not yet in the menu.  I just happened to be around when they are doing food tasting.  This steak is sod delicious and cooked just the way I liked it.  wrapped in pastry and pate, it is the satisfying dish to order.  It also comes with veggies.  Solstice veggies are meant to be half cooked to retain its nutrition.
Pastas are also available in their menu and a personal favourite is the Sundried Tomato Pesto (P460). It is cooked Al Dente.  Yum!
Don't miss out on their desserts.  It's hard to choose from all of them, really.  My best bet would be the pistachio sans rival at P350 a slice.  Th down side is you can't have just one bite.  Then there's this little cake with heart on top.  Slice it up and there's a surprise inside.  Different flavors are built in it and every bite is such a delight.  Turtle pie is also fun to have.  The pecan is just a favorite to have.  Chocolate is perfectly sweet.  Last but not the least is the lemon merengue, perfect with hot tea for a less overpowering dessert.
..and, ofcourse, service is great with the smiling servers in black attire.  Ask away about their recommendations, they know what just what to say.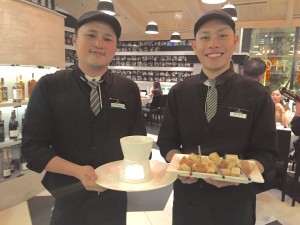 Restaurant king Jack Rodriguez and Consul Joe Assad joined me this evening and showed me the Solstice experience.