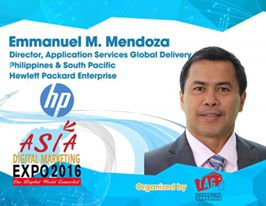 Emmanuel Mendoza is the Hewlett Packard Enterprise Director for Application Services Global Delivery Philippines & South Pacific and joined HP in 2006 and has over 33 years of Organizational Management, Application Management, Consulting, and IT Project Management experience. Noel provides overall management of the company's operations, and leads HP's Global Delivery hubs across the Philippines and South Pacific, which specializes in Application Managed Services, Application Integration and Development, Enterprise Application, Information Management & Analytics, Mobility and Cloud Technologies. Noel's leadership has resulted in exponential growth in the team (from 450 to over 3500) during his tenure and driving expansion plans for the business. He has led the HP GD Center which won the Best Non-Voice Excellence 2011 and the Best Quality Program Categories in the 2012 and 2013, and Best Innovation Programs for 2013 in the International ICT Awards. Noel has also been in the board of Directors and Advisory Boards for schools and Industry Associations' such as Philippine Software Industry Association, Asia Pacific College.
Noel also brings a strong management style that is founded on trust, collaboration, and leadership development. Further, Noel brings a passion for growing IT talent and contributing to the progress and competitiveness of the IT/BPO industry in the Philippines.
In his previous role in IBM, Noel was responsible for the entire Global Services Delivery Center in Manila comprising 320 software professionals and technology consultants in the Philippines. He was responsible for conceptualizing, planning, and launching the Delivery Center to support IBM Global Resource initiatives.
Noel will be one of the speakers under topic:
"Breaking down the challenges of running a business that is 'Multi-Country': How can you successfully expand across the region by using the right technology?"
Reserve your slot now. Limited seats are available as of today. Registration fee is Php 4,000.00 with elegant lunch and snacks. Deposit your fee to TAG Media and Public Relations, BPI Account # 1680 0010 29. For inquiries and registration E: www.asiadigitalmarketing.ph M: 09166299381
Presented by TAG Media and Public Relations to promote the ASEAN region as a premier business destination. The conference serves as a hub for networking and spreading of ideas that help top management overseeing enterprises across the Asia Pacific region. Speakers are experts and leaders in their industries and engaged in momentous pursuits of significance to the ASEAN region. Attendees are senior leaders, high-ranking government officials and journalists covering the event.
#TAGmedia #AdMe2016