The Yosemite National Park in California, USA is definitely a breathtaking site and a bucket list for national Parks. This vast park breathes life in the tranquility of High Sierra. Locals are blessed to live here and consider yourself a lucky tourist to experience this.
A go to location for most tourists/visitors is the Yosemite valley. Here is where you can find most of highly recommended spots in this National Park. The con could be that it is usually packed with people. While this is good for Yosemite economy, it might be hassle of a travel. A good tip would be to go during off peak season. Avoid summer. If you can only come during the peak season, make sure to get bookings early and brace yourself for the crowd.
To conquer Yosemite Valley fast and swift, divide the map into East and West. This is how we covered the valley in 2.5 days. We also chose not a hurried style but also not a too relaxed style. Let's just say, we had a free time in the morning and we can rest pretty early. This travel guide is great for almost everyone who wants to enjoy their time in the valley without much pressure.
Let's start with the Western side of the Valley. The major points here are the majestic El Capitan, Bridal Veil and Yosemite falls. Yosemite falls could be the center of it and can be also found in the Eastern side. Since we stayed in Yosemite Valley Lodge, we see Yosemite Falls everyday and it was easy for us to divide Yosemite Valley into East and West. Click the pic below or search a place for you to stay in Yosemite Valley. Remember, book way early if you are planning to go on a peak season (summer).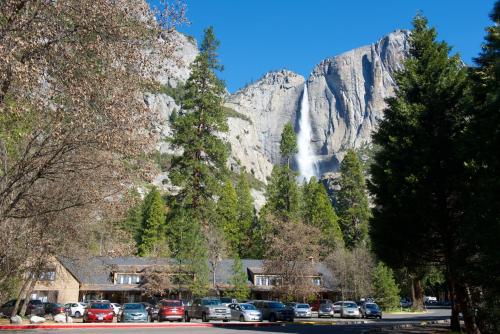 On the Western side of Yosemite Valley, shuttle does not go as far as the El Capitan. A good way to travel it is by renting car or riding a bike. If you must walk it, do it in the morning and you can get back in the afternoon. Here's a vid of us trekking Western Yosemite Valley and what we have learned during this trip.
Now, let's go forth the Eastern side of Yosemite Valley. The major points here are Vernal Falls, Emerald Pool, Half dome, Clark Point and Mirror Lake. Don't be overwhelmed with all of these. It certainly can be done on a day tour because they are in the same area. It will be hard with kids but we have seen babies being carried and kids trekking along with their folks.
The Happy Isles trail will make you see Vernal Falls, Emerald Pool, Half Dome and Clark Point. It is a moderate trail but long. It is highly suggested to bring mix trails to snack or picnic food. Just remember CLAYGO (clean as you go). While the Mirror Lake trail is short. It's actually just 10-15 walk on a flat pavement. The shuttle stops for these two trails are right beside each other.
Watch this video of our experience in the East side of Yosemite Valley. We have recommendations on how to conquer this side of the National Park,
Ready for your Yosemite National Park adventure? It was definitely a sight to see and truly enjoyable. Please feel free to comment below if you have thoughts, questions or suggestions about this trip.