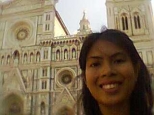 "Firenza" ,as the locals would say it, is one of the most charming town in Italy.  The setting of the place is lovely as can be.  The town maybe little but its art and culture is abundant.  The Uffizi Gallery houses the best Italian paintings.  Botticelli has an enormous collection here.  The queue is very long so come early if you want to spend a long time inside or come towards the closing time (2-3 hours before it closes).  Do not forget Bargello where Donatello's "David" stays.
Piazza della Signoria is also a lovely place to be in.  If you want some gelato, I suggest buy it on another block because this place is a tourist trap.  Then walk back here like a professional tourist.  The duomo does not allow gelato inside.  Pay respect at this holy, sacred church.  Michelangelo thought this is the gate of paradise.  This is also overcrowded.  A good tip is, you could come to a Latin Mass at 7 am and experience a very holy Eucharist with the Italian nuns.
For shopping, I would most definitely come back to their Leather Market.  Smell original leather goods from jackets to bags to belts. The prices are cheap and do not forget to haggle for some more.