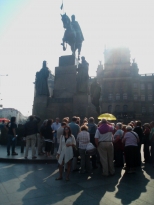 Prague is I would say one of the most enchanting places I have ever visited.  If not, I would say it is the most enchanting place I have seen.  You can enjoy Prague in a day's visit and feel that you have been in a fairy tale.
One must visit the castle up the hill.  For the fit and jolly,  it could be climbed easily with a path that would not get you lost.  Nonetheless, a ride could be taken up the hill.  Inside the castle, you will be more amused.  Its great history will remind you how magical and lovely the place is.  This is 9th century foundation of power and progress.
Cross the Charles bridge in Prague and admire its cobblestone.  This also leads to the old town hall where you could view the astrological clock.  Another place to go too is the replica of the Eiffel tower, the Petrin view Tower.
Last but not the least, do visit the new town where Wenceslao square is found.  You could find non-tourist people here and feel the vibe of being local.  Eat at local restaurants at a cheaper price, shop for whatever you need and the exchange rate is probably cheaper here. Be careful with your things, money and valuable as usual.