The best chicken wing place is in Makati City, Philippines.  Assorted flavors of wings are readily available for order.  One must try 'em all or bring plenty of friends to finish all the wings.
Different kinds of chicken wing are available to choose from.  Take a pick from:
Buffalo Classic- their taste flies! You can also choose the intensity of hotness.
Honey Garlic
Lemon Pepper
Garlic Parmesan
Honey Mustard
Jamaican Jerk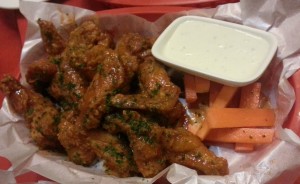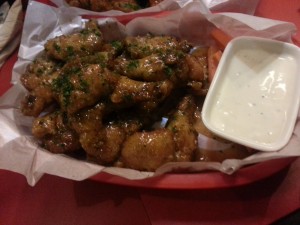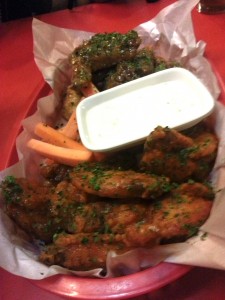 Their sliders are also delish!  The side fries makes you want to grab for more.
What's a good drink to pair up with the wings?  Beer!  wingman has assorted number of local and international beers.  The 1906 from Spain seems to be a favorite here.
The owner, Erik Waldie, is the main chef of this stop.  He has been making wings for a long time and decided to open a resto to share his wing expertise to the public.  Excellent choice for this Canadian lad.
Since Erik is an Ultimate frisbee player, he has discs hanging on his wall for interior decor.
Its always a good chicken treat at Wingman!
Wingman is located in The Collective, Makati City.