Yes, trapeze is a serious circus acrobat.  The good thing is, nowadays, you don't have to be in the circus to try this art.  Will Hsu, a trapeze expert, started learning trapeze since he was 8 years old.  Now, he wants to share his passion through trapeze.ph.
Anybody can try this art, fit or phat.  Would you need strong arms, legs or back?  The answer to this question is no.  If you are a beginner, you just need 'will' (Will Hsu and power of mind).  The first try could be the scariest as you jump the 25 ft ladder to make it to your first swing.  After, the first swing, you are now ready to take more tasks as you perfect this art.  So why are trapeze performers so fit?  The guess would be that the muscle follows what needs strength as you try to train harder.
Step 1:  Jump if you dare.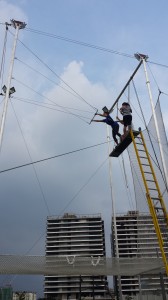 Step 2:  Engage your legs to the bar.
Step 3: Let your hands let go of the bar.
Step 4: Crunch back to let your hand  reach the bar.
Step 5: Swing to a back flip.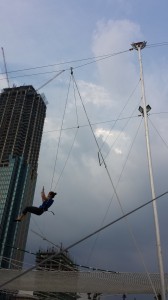 Easy breezy!
To know more, pls visit www.trapeze.ph