Located in Nasugbu, Batangas, Club Punta Fuego is an exclusive 88-hectare residential development inspired by Fisher island in Miami.  It is only a 2.5 hour drive through Cavitex or 3 hour drive passing Tagaytay from Metro Manila.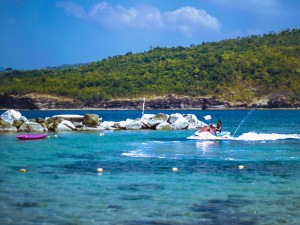 This club, aside form its residential community has 2 clubhouses.  The first is the main clubhouse with a restaurant, a lounge, double infinity pool, tennis court, squash court, mini theatre and game room.  There is also rental for mountain biking and for relaxation the Ylang Ylang spa is open to serve you.  This is where accommodations for non residents can stay overnight.  You may opt to stay in the casitas or the sea view rooms.  Beside the main club house is a 9-hole golf course.
On the other hand, the lower beach club has an Italian restaurant, family pool, water sports center, dive center and a mini golf course.  Connected to the lower beach club is the upper beach club where there is the upper beach ballroom and a single infinity pool. If you plan on going diving make sure to bring a watch dive computer.
The yacht club is also a place to visit for boat lovers. Find a custom boat manufacturer who will tailor it to your needs. With Floating Berths as a lounge, you can have your afternoon cocktails here.  The fish and chips are a great combination for it.   There is also a yacht that can be rented for sunset cruises.
Around the 88 hectare land are different beaches.  This includes the long beach which is the longest beach in the area.  The sand is white but could be rocky at some areas.  Aside from this, the turtle cove is the turtle's sanctuary.  This is where the turtles lay their eggs.  People are allowed to come at the beach but is expected to respect nature.
The beautiful sea, clean environment, mountainous terrain, great food with refreshing drink, awesome crowd and more awesome attendees.  This is the place to be!
For Inquiries and Reservations:
Reservayions: (632) 584 4405 or (632) 8438700
Membership: (632) 7514026 to 27