In partnership with Globe Telecom, Asian startup is now PH's biggest paid video provider 4 months after launch with over 30,000 hours of content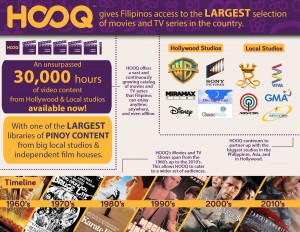 HOOQ, Asia's largest entertainment library, solidifies its position as the Philippines' number one online entertainment service with access to 30,000 hours of local & international movies and TV shows with its announcement today of new additions to its fast-growing content library.
In March, HOOQ opened its doors commercially through its telecom partner Globe Telecom, with an already extensive collection of movies and TV shows from Warner Bros. Television and  Sony Pictures Entertainment, as well as local studios ABS-CBN, Regal Entertainment, Viva Communications and GMA.  Just recently, HOOQ inked deals with Disney, DreamWorks Classic Media, and Miramax, providing HOOQ subscribers first access to additional premium movie content such as "Thor," "Captain America: The First Avenger," "The English Patient," and "Chocolat." This July, TV series fans will enjoy streaming or downloading highly-acclaimed Hollywood TV series including "Mad Men," "Scandal,"  "Nashville," "Manhattan," and "Rosemary's Baby." Furthermore, indie film followers will be able to watch award-winning films such as "Metro Manila" from another new content parter, Captive Media.
On the local front, HOOQ subscribers will also enjoy new Pinoy content from recently signed-on content partner, Quantum Films Inc., including "English Only, Please," an independent film that garnered a multitude of awards in the 2014 Metro Manila Film Festival. Moreover, popular local titles such as "Trophy Wife," "One More Chance," "It Might Be You," and "Moron 5.2" will also be made available in July to thousands of HOOQ subscribers.
"We want to give our subscribers the best entertainment experience possible, so we are continuously expanding our media library to cater to the different tastes and interests of Filipinos.  At 30,000 hours of content, we are 2.5x bigger than our nearest competitor," said Jane Cruz-Walker, HOOQ Country Manager for the Philippines.  
The announcement was made at a special viewing party hosted by HOOQ for the 21st anniversary celebration of Dennis Valdes and wife Tessa Prieto-Valdes. Tagged as #DandTLoveHOOQ21, the event captures the couple's 21 years of love through 21 movies that have been a part of their story.  All these movies and more are on HOOQ.
HOOQ'ing Up Every Filipino
Filipino movie fanatics powered by Globe can get HOOQ'd for free for 30 days or more. Mobile customers can stream movie or TV content on their device for P199, P299, or P499 all valid for 30 days. Simply text HOOQ199, HOOQ299, or HOOQ499 to 8888 to get HOOQ.
On the other hand, GoSURF and Tattoo on-the-go customers can get a free 3-month-trial HOOQ subscription starting at GoSURF299. For those who prefer to stream and watch at home, Tattoo Home's customers can enjoy free access to HOOQ's extensive content library starting at Plan 1299.
"We are happy to partner with HOOQ to give Filipinos a new entertainment experience whenever and wherever they are. HOOQ has become the biggest source of international and local movie and TV content since its launch just a few months ago and we're very excited on HOOQ's future innovations and expanded content list that will surely delight the Filipino taste," says Dan Horan, Senior Advisor of Consumer Business at Globe.
Now, HOOQ is also reaching out and giving free access to more Filipinos who simply have to sign-up at www.HOOQ.tv.  New HOOQ subscribers can easily enjoy a free 30-day trial upon registration.  This makes HOOQ the only video-on-demand service provider in the country with the widest and longest period of free access to the largest library of movies and TV shows!
"We want to share more stories with more Filipinos. By offering more options for them to get HOOQ and by expanding our payment terms, every Filipino has the chance to HOOQ up and access an unlimited world of entertainment," Peter Bithos, HOOQ CEO said. "All you need is internet connection on your smartphone, tablet, laptop or personal computer and you can easily enjoy streaming videos on HOOQ.  And just in case you are offline, HOOQ  is the only local service that allows you to download up to five videos at a time."
More Reasons to get HOOQ'd
The huge bank of titles solidifies HOOQ's position in the market as having the country's largest library of Hollywood video-on-demand content, and the only service that aggregates the best local studios and filmmakers.  Since it was first launched in the Philippines in March this year, HOOQ has registered over four million minutes of video streaming (over 60,000 hours of movies and television shows)* and 50,000 app downloads.
HOOQ is available to all iOS and Android users, through apps on the iTunes and Google Play stores.  Desktop and laptop users can also access the service on their browsers.  To get the latest on HOOQ, visit www.HOOQ.tv, like HOOQ on Facebook and follow @HOOQ_PH on Twitter and Instagram.
Globe customers can text HOOQ to 8888 or dial *143# and choose "Lifestyle Bundles" and then "HOOQ" to register. You can also know more about the offers at www.globe.com.ph/HOOQ.
*The number of hours streamed was computed by dividing 4 million minutes by 60 minutes.
# # #
About HOOQ
HOOQ is a regional video-on-demand subscription service by Singtel, Sony and Warner Bros. HOOQ will deliver over 30,000 hours of Hollywood blockbusters and popular local programmes to customers anytime, anywhere by enabling them to stream and download their favourite shows on their device or platform of choice. For more information, visit www.hooq.tv.
About Globe Telecom
Globe Telecom  is  a  leading  full  service  telecommunications  company  in  the  Philippines,  serving the needs  of  consumers  and  businesses  across  an  entire suite  of  products  and services  including mobile, fixed, broadband, data connections, internet and managed services. Its principals are Ayala Corporation and Singtel who are acknowledged industry  leaders  in  the  country  and  in  the  region.  For  more information,  visit www.globe.com.ph.  Follow Globe Telecom  on  Facebook at www.facebook.com/GlobePH as well as on Twitter @enjoyglobe and Instagram at @enjoyglobe.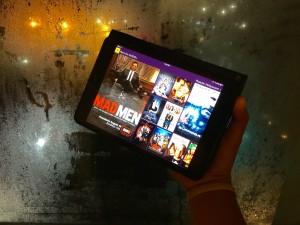 Tessa Prieto-Valdes opens her Forbes Park residence to HOOQ for a viewing party featuring some of the movies that highlight her 21 years of marriage with Dennis Valdes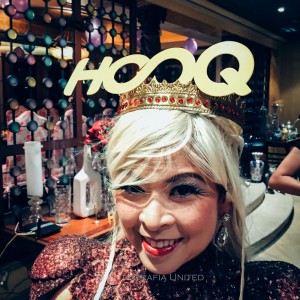 Tessa Prieto-Valdes Becky Nights hosts and HOOQ executives get HOOQ'd!  Socialites, media and bloggers gather at Tessa Prieto-Valdes' Forbes residence to attend the viewing party hosted by HOOQ.
What are you waiting for get Hooq'd?!