During the last weekend of Nov, USC, a legendary team from the Ultimate community of PFDA, organised a beach tournament at the Crystal Beach Resort in Zambales.  Numerous fun teams were built during this event.  The goal of the organisers were to build a fun, spirited, non competitive tournament.  One can only be competitive for boat races (beer drinkers) and frisbee pong.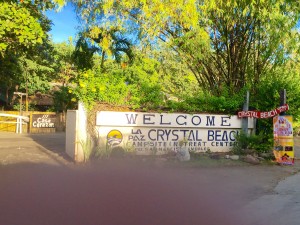 Crystal Beach resort is an amazing place for anybody.  It has a spectacular view of Mount Morocco, a surfing ground and a sand as wide as having 4 fields on the beach (could be more too).  Another best thing about this place, is that it is a camping site.  You can bring your own tents or rent one from the resort.  There are also cottages that is good for a team.  Glamorous camping is also possible by renting the resorts' glamping tent.  It has flat beds, pillow, blanket and a fan inside the tent.  It also has enough space to stand.
Starting late afternoon of Saturday until the event ended, alcohol was free and was enjoyed by the players.  Then after the chill Saturday party with Nino and DJ Reggie, players woke up early or have not slept at all.  A ready bonfire early in the morning is a good place to sit around to do chitchats.  Several teams did some morning bonding around the campsite with their hammocks and tents.
For the more hard core campers, one can just bring a hammock.  There are plenty of trees to tie on.  Note to the carless,free-birds, one can just bring a sleeping bag and sleep on the sand.  Drunks can't be choosy anyways 😛
Bring insect repellants and no one should worry about snakes.  Although, a frog was seen on site.  Dogs are allowed too.  Meet Coco, Rocky (Road) and DD (Double dutch)!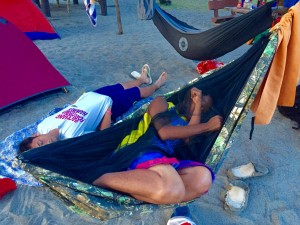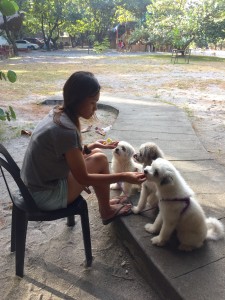 During the awarding, Jed Arcilla, the founder of USC gave a small talk to the attendees.  He thanked everyone for coming and asked to enjoy some more.  The best team award is the Most Spirited Team that went to Team Kamaya of Bataan led by KitKat Faylona.  They also won 2nd place in the pool A division.  They are a new team composed of fast players trained for military speed and 2-point bomb points.   The Miley Cyrus award for the best twerk was won by a female from the Mekeni group.  Nobody can beat her awesome twerk!
Thank you USC for a well organised beach tournament!