The Pahiyas Festival falls on the weekend May 15 every year.  This is to celebrate the year's harvest with their patron saint, San Isidro  (St Ysidore).   It is the townsfolk's thank you for a great harvest.
I am so glad to see this year's Pahiyas Festival.  It got bigger and better than how I remember it as a kid.  The last time we were there, Discovery Chanel featured our ancestral place and I thought it could not have been better than this.  This year, the festivity got bigger with more programs and gimmicks.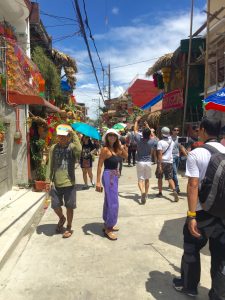 So take the Pahiyas tour with me and next time, come and join the fun.
Colorful houses surrounds the streets of Lucban.   They used grains and kipings ( crunchy rice leaf) to style their homes.   The fun part is  that some homes open their doors for photos in their balconies.
For more detailed decoration, they use their harvest as display.   You have to be creative to make your home look nice and fun.  Check out the flower made of kiping and some local fruit in the middle.  They also made a building out of cardbox and decorated it colorfully with tiny flowers.  While the hill on top of the roof is made out of coconuts.  My favorite is the giant corn made of corn kernels and it's wrap.  I was also surprise on how that root crop got so huge.  They were so proud, they had to display it.  Another favorite is the eggplant turned into a butterfly!
Since animals help them with harvest and having animals means being bountiful, it had to be a part if the festival.  Lechon as a part of the display is so fun too.  I hope they share it after.
I definitely want to make a salad out of this house.  Dressing please!
Then I danced with their music.
Selfies, wefies, couple pics were rampant.  Gosh!
There was a procession in the morning were they gave thanks to San Isdro for giving them bountiful harvest.  In the afternoon, there was a gala of cultural dresses made of organic materials.
See the details on this one…whoah!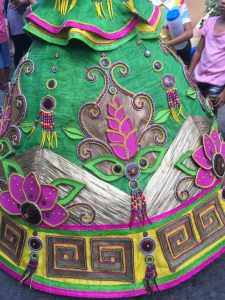 Carabaos and food carts were also part of the parade.  Food carts served habhab and they gave away foo as part of the festivity.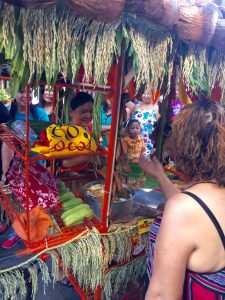 Last but not the least, were the giants!  They were so fun and game with everyone trying to have a photo with them.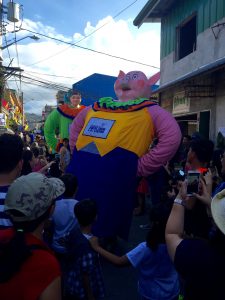 Thanks for taking the tour with me!