Nasugbu, Batangas-  Every August, Club Punta Fuego holds its Fuego tee in their prestigious golf course.   This has become a tradition for its members and guests who enjoys playing golf. This year, like the other years, has not become an exemption for the weather's mercy.  In fact, the weather prediction during this weekend is rainy with thunderstorms.  The threat of the tropical storm was announced a few days before the tournament.  With all the luck,  Sunday weather has been forgiving.




Last August 28,  Club Punta Fuego held it's 9th Fuego Tee at their designated golf course. Registration started on time and players started coming around six am.  A total of 24 registrants played during this tournament.
Caddies got ready with their players.  The first tee off started at 7 in the morning.    The sky is still on overcast around this time but the players were confident that the sun will show itself soon.  This is the hole in one tee and whoever gets a hole in one will be receiving several prizes.  The hole in one is sponsored by Philjets, an aero service company in the Philippines.  Philjets Group is in business for helicopter and jet charters.  They also do fleet management and maintenance.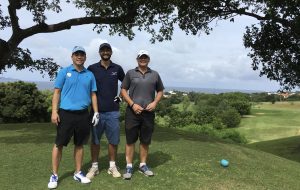 Club Punta Fuego golf course holds an amazing view throughout the course.  With the 5th and 6th holes being the two favourites amongst the players.  On these holes, a view of the ocean is a site to see.  Since a marina is also a feature of the club, boats and yachts are eye candies in the ocean.




The sun did show up and the heat was a good feeling.  The players were given two drinking stations throughout the course.  The first tee and 5th tee, namely.  The course has 9 holes in total so the players have a chance to redeem themselves on the next round.  Of course, the second round has an element of weariness.
The awarding was held at the San Pablo room of Club Punta Fuego's club house.  Plenty of raffle prizes were given to the registrants.  Sledgers, French-comfort styled shoes were generous to give away shoes to the players.  Salvatore Ferragamo also gave away watches while Johnnie Walker gave plenty of bottles for the players to take home.  Platinum and gold label were amongst the whisky given.
The overall winner for the 9th Fuego Tee is Mr. Herb Betz, one of the representatives of the Philjets Group.  He won shoes from Sledgers, several whisky bottles from Johnnie Walker, watch from Ferragamo, a plaque and most importantly his name on the big trophy sealed.