The kingdom of Bhutan is still one of the countries best to explore for travellers who want to go back in time and appreciate simplicity.  This country is, indeed, rich from culture, minerals and smiling people.  Bhutan is also named to have the highest gross national happiness (GNH) in the world.  This story rose up when the 4th dragon King of Bhutan was asked "What is your gross domestic product?"  The king then answered that he gauge his country not to its monetary wealth but collective happiness of the people.
Note that Bhutan is quite an exclusive country.  Tourists pay $250 per person per day to visit this wonderful place at a minimum.  The experience, in my humble opinion, is priceless.
Let us begin to explore Bhutan. This trip is an upgrade and costs $850 per person per day inclusive of everything but airline tickets.   The hotels are also 4-5 stars than the usual 3 star accommodation.   We get to have our private van for 5 and go as we will.   Some kind tips will also be found along the way:
There are only two commercial airlines that can reach Bhutan.  One is Bhutan airlines and the other is Druk Air.  We opted Bhutan airlines because of its flight schedule.  We came from Bangkok airport (BKK), had a short lay over in India and flew to Paro, Bhutan.  Paro airport is quite tricky to fly into since you have to go near the mountains and land on short landing strip.




When you sit on the right, you will have a good sightseeing welcome of Bhutanese mountains.  You can also find small communities around these mountains.  Yes, you will be flying near them.  Sit on the left and you get to view the Himalayas including Mt.  Everest.  It is an exciting and exhilarating experience.
Camera clicking starts from the plane and also when you land.  There will be no airport guards that will call on you not to take photo.  You have just entered into the land of happiness.
We were welcomed by our travel guides Tashi and Sonom by our travel tour company Charlotte Travel.  They are responsive and easy to deal with.  They welcomed us with scarves over our head.  They are called Khata which symbolises pure heart of the giver.  Then we rode our private van to our first stop,Tachog Lhakhang Dzong (fortress).   This is a 14th century bridge that leads to a fort.  This bridge is 600 years old and still strong.
Then we headed to Thimphu and had our first Bhutanese food for lunch.   Thimphu is the largest city and the capital of Bhutan.  All restaurants that we shall dine in are tourism approved restaurants.  We were still not accustomed to the food because of its buttery taste.
After lunch, we checked in our first hotel.  Namgay Heritage Hotel is a 4 star hotel located in Thimphu.   You can experience Bhutanese culture in this hotel.  It is quite old or designed as an old hotel.  I suggest using your own toiletries for this hotel.  The hotel toiletries given are not prime but useable.  They provide low quality toothbrush, shampoo, soap and slippers.  They also do not provide a robe in this hotel.  Nonetheless,  the rooms are quite spacious.  You will have your own living room and a study table at a convenient location.  The bedroom has ample space.   It is big enough for that yoga mat on the floor.  They also have a gym where you can view the mountains while you are on that treadmill.  A heated indoor swimming pool is also available.  They provide breakfast which is way less than great.  Don't be surprised.  Namgay staff are nice and accommodating.  Please do not expect more as their knowledge is basic.  You are in a basic country with basic needs.  Expect the smiles, pleasantries and just love the purity.
In the afternoon, we went for our first hike.  We drove towards one of the mountains and started trekking.  We get to see a great view of Thimphu.  Along the hike, we get to see the 4th and 5th king's residence.    We were told that the 4th king reigned from 1972-2006.  Still alive, the 4th king gave his crown to his son, Jigme Khesar Namgyel.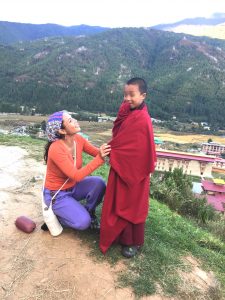 It is only after office hours that you get to visit the parliament house.  This is the office of the King of Bhutan.   The monks come to the temple inside the parliament vicinity late afernoon to give honour to Buddha.  They sing a song of praise and are, indeed, very happy.  The visitors can donate and make a wish.  The monk will bless you with holy water.  This holy water is induced with saffron.  You receive it with your hands and drink it.  Then you put the water on your head.  No pictures are allowed inside the temples.
On a spooky note, this picture of the parliament house of Thimphu is full of orbs.  Well, it's either orbs or a dirty screen.  Be the judge.
We also get to explore downtown Thimphu.  There are assorted shops found in this town.  You can find cafes, art galleries, cultural items and handicrafts.  Weaved items are abundant in Bhutan as the ladies are good in this craft. There are plenty of dogs around town but these dogs do not harm you and are not aggressive at all.  Dog lovers will have a blast not only in Thimphu but the whole country of Bhutan.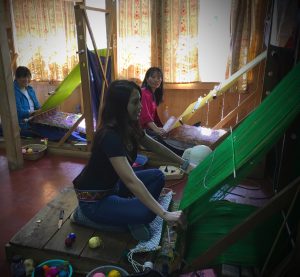 During dinner, we get to try more local Bhutanese food in a local restaurant.  For starter we were given a welcome drink which is their rice wine.  It tastes close to a Japanese sake but a bit rougher.  Then we were given cereal looking starters.  This can be paired with fresh local cow's milk.  They also served pot stickers with cheese inside.  It's quite an odd Tibetan influence.  Then we were given some local chicken dish, other vegetable viands with organic mountain red rice.
We left our hotel to go hike to a monastery in Cheri hill.  It is also called Chagri Monastery and was built in 1620.  It takes an hour to walk up the hill but you would barely notice the walk because of the beautiful surroundings.  It is all uphill going there so be prepared to use your hamstrings and glutes.  Take your time and enjoy the view.  At the top of the hill rests the monastery, the monks, the black and white sheep, black and white goats, dogs and other hikers.  In the temple, you get to meditate, offer a prayer and donate for good will.
This is also our first encounter of the clear glacier water that comes from Mt Everest.  It is such a nice sight and the sound of the loud water flow is quite therapeutic.  The water is absolutely scenic.  Charlotte travel, our travel agency, treated us a surprise lunch by the river.  The owner showed up and served us local food.  We were told to take our time so we hanged out and enjoy the river and did some archery.  Archery is their national sports.
On our third day we visited the Big Buddha in Thimphu, also known as Buddha Dordenma statue.  This site is quite amazing as the Buddha is massive and made with gold dust.  It still not finished and will probably take a while to build.   Nonetheless, tourists are allowed to come here and be amazed with the site.
We left from Thimphu to go to Gangtey. It is only 100km away but our ride took eight hours due to the undeveloped road.  Landslides are popular during rainy season.  Sometimes guests help push the car. The best time to travel is during fall season. It's all part of the thrill and fun according to our tour guides.  Here's a video to show how rough and narrow the roads are.
As we reached Gangtey at night, we went straight to our hotel which is the Gangtey lodge. We were quite tired from our road trip.  Not only was it long, it was also exciting seeing the view of where we can drop.  Well, too exciting…. You can also charter a helicopter to Gangtey amounting US$ 5500.  It only takes 20 minutes to fly here and they will pick you up after your stay.  Too bad, you will miss the thrills on the road going here. We were welcomed by the GM, Mark Wright.  The staff also sang us a song of welcome.  We were so relieved to get into our lodge.  Mark was very pleasant.  He sat as by the bonfire and briefed us about the hotel.  We were then massaged in our seats and were given a glass of apple cinnamon tea.
After the warm welcome, we were led to our rooms.  The rooms are very nice and well thought of by the architect in my humble opinion.  It gives a sense of homey feeling and also a great vacation.
Our most pleasant meals were also served in Gangtey Lodge.  The food is orchestrated by Chef Soe from Malaysia.  Each meal is introduced by a menu in a handmade paper on top of a leather board.  You choose your food from this simple menu.   You can't simply go wrong with the choices.  Everything is freshly made and from scratch.




In the morning, we woke to a beautiful view at this lodge.  Need not to say more.  Just check out this photograph.
After the great breakfast and making sure there is bacon in our plates, we went for a hike towards the village.  We thought yesterday's drive towards Gangtey was exhilarating. Our adventure just keeps getting better when we saw a small tornado destroying the roof of the farm house.
After this exciting incident, we went on with the beautiful Gangtey trail. This is literally a 2 hour walk in the park. The walk is very scenic in every step. We encountered free roaming cows, free roaming dogs, mating dragon flies and free roaming horses. They have their own Equi Supermarket just around here, since nothing else is. I just love the life of the animals here.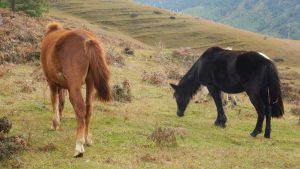 After the easy 2 hour hike, we went to visit an endangered bird called the black necked crane. One of these birds is called Karma. He was injured by a roaming dog and broke his wings. He cannot fly with this injury so Gangtey is currently taking care of him.  Gangtey also has the Gangtey Gompa (Monastery) which is very important in Central Bhutan or the Wangdue Phodrang district.
In the late afternoon, we decided to enjoy in the Gangety lodge.  We had a nice warm bath and ordered a Thai massage.  The masseuse are very professional and excellent at their craft.
In the morning, we bid good bye to Gangtey lodge together with our newly met friends.
On the fifth day, we went down to Punakha.  In Punakha, you can find the most beautiful dzong (fortress).  It is called the Punakha dzong and is well visited by tourists.  This fortress is also waitlisted in the UNESCO list.  Another fact is that the present king held its royal wedding at this fort.
The male and female river also unites in Punakha.  The male river is robust while the female river is calm.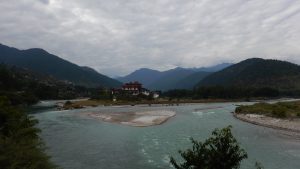 In this side of town, we stayed at the Green Resort.  This is a 4 star hotel with spacious rooms. They have a wide screen flat tv with cable so you can get updated with the news.  Their restrooms have a bath tub inside.   Our bath tub is not working great as the water continuously drains.  The rest room also has a foul smell and the toiletries are not that great.  Beds are great and so are the chairs.
The staff, as in the whole of Bhutan, are very nice and friendly.  They presented a dance for us later in the evening.
Another note from Green resort is that they have the best walnut muffin. The staff gave us some takeaways from breakfast. It is made fresh and not too sweet.
We also did some hiking in Punakha.  We went around the villages and saw beautiful fields being harvested manually.  Bhutanese are really hardworking and they do hard work with all smiles.  This is a trait everyone should learn.  We also saw this beautiful beard with yellow beak.  It's so beautiful flying around freely as it knows it won't get hurt.
The hike leads to the Chimi Lhakhang or Divine Madman monastery .  The tale says the Divine madman trapped with magic bolt of wisdom a demon.  His teaching ways are unorthodox as he uses singing, humour and outrageous behaviour.  He also likes the phallus symbol.  On top of this hike and beside the monastery are young monks playing music.  Inside the monastery is a temple where the Divine Madman statue is.    This is also a monastery for couples who can't have kids and are trying hard to have one.  Miracles were said to have happened.  They keep an album of these miracles.
On the sixth day, we headed back to Paro.  On the way, we found some funny but true road signs.
Before checking in our hotel, we had high tea in Uma hotel by Como.  It is five star hotel located amidst the pine trees.  This boutique hotel also has a gift shop that sells selected Bhutanese items.  Most items are more expensive here than the Paro street shopping but they are also one of a kind.  Just decide if it's worth it for you before buying.   I got a case bag for my i pad here.
Then there is the Paro strip great for shopping compared to all of Bhutan as they are complete with local items that you are looking for.  If you want to consolidate the shopping into a day, this place is the best option.  They also have cafes that sells assorted teas, coffee and sweets on the side.
Trending: Commercial Coffee Brewing Equipment NY | Coffee Brewing Systems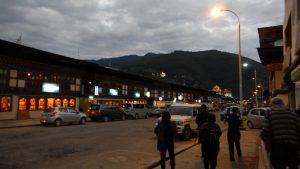 We, then, checked in to our hotel, Naksel resort and spa in Paro.  This place is also recommendable.  It is not as intimate and personal as Gangtey lodge but their facilities are quite great. Their rooms are very spacious.  The design is a modern lodge.  The beds are excellent.  The rooms are equipped with television, coffee table and chairs, small veranda, study table, cabinet, locker and still more space to invite people in.  The restroom is equipped with bathtub and toiletries for keeps.  Their soap smells real great as well as their bubble bath.  They provide robes and slippers of good quality. The only thing missing is a fire place to make it romantic.  For a modern style, I guess the heater works.  This hotel also has a separate spa for your massage needs.  There is a gym and a separate yoga room.  The yoga room faces the mountain side excellent for that yoga pose.
Their reception and restaurant area is a separate building.  We were well received with a tea to welcome us.  Breakfast was not as excellent as Gangtey lodge but they have their egg station. Choose how you want your eggs cooked.  I prefer omelette with local Gouda cheese.  I also enjoyed their red rice porridge with paneer.
The highlight of this tour is definitely seeing tiger's nest.  This happened on our 7th day.  We drove 2000 meters up the hill and we still need to fulfil 1000 meters more of a hike.  Note, that it is best to start early as this is most likely a 5 hour hike.  If you want to enjoy the full experience, start at the bottom 8 am.  You will probably reach Tiger's nest at 11am.  Most people like to do the uphill hike using their legs.  We prefer riding the horse.
Horses are only allowed to hike half way.   It was a sad goodbye to the horses when we got off of it.  My horse had become friendly and easy to maneuver as  we went higher.  The halfway point is marked by a big spinning prayer wheel.  You could already see the Tiger's nest at this view point.  It excites you as you get nearer. If you are getting tired on the hike towards the tiger's nest, you can sit in a chair provided and take a sip of water.  To rest more, there is also a cafe that serves coffee, tea and biscuits.  Most tourists like to stop for the biscuits, enjoy the view and savour the experience.  You will also find some stones on top of each other.  Find a smaller rock and put it on top of this stack.  Make a wish.
There are many viewpoints to take spectacular photos of the Tiger's nest.  Click all you can.  How often would you hike this beauty anyways?  Upon reaching the top viewpoint, you need to go down another set of staircase.  You also need to cross a bridge beside the holy water falls and climb another set of stair case.  Once you reach the entrance of Tiger's nest, you have to give up your cameras, hats, food and everything else beside your prayer bids and wallet for donation.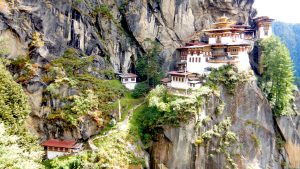 Going back, lunch is provided in the cafe.   No meat will be served but there is egg for your protein needs.  Amountful of red rice and noodles are also available for carbs and to mellow down that Bhutanese favorite chili cheese.
In this travel,  I used a Big Skinny Cheshire Convertible belt and shoulder bag.  It is so handy as I put Bhutanese money (Nu) in it.  I could divide and organise the money and there well plenty of space for assorted cards.  I also placed my cell phone in it and some receipts.  It was used mostly as a belt bag as I would like to travel with my hands free. Together with the Big skinny passport holder, I saved a space in my travel.  It holds some special magic as how it compresses everything in one bag.  They have a warehouse at 108 Romblon Bldg. Bonifacio Heights, Lawton Ave. Taguig.
This sums up our awesome Bhutan trip and the wonderful lessons that we learned from this trip.  It was a wonderful experience to meet the locals and experience their culture.  For one, animals and nature are never harmed or killed in this country.  Now wonder dogs roam free and have a sense of friendliness amongst everybody.  They know they will not be hurt.  Water, rocks and other parts of nature has a life too and must be respected.  People are truly happy not only because the government provides them free hospital and education, they are simply content and satisfied with what they have.