With the new airport, travelling to Sicogon from Manila just got very easy.  All you need to do is book MNL to ICO as your airport code with Air Swift.  Pack your luggage and head forth Terminal 4.  The other way to get here from Manila is flying to Iloilo airport, then take a bus to Estancia (4-5 hrs) and lastly, take a boat to Sicogon island (1 hr).  
Currently, there are 2 resorts available in Sicogon island. Luckily, I have tried both of them and I'm happy to share with you my experience to make the choice easier or why not try both like me.
The first resort I've tried is Balay Kogon.  Book here for discount.  After landing in Sicogon airport, a van will take you 10 mins to the port then you will have to ride the boat for 50 mins to get to Buaya beach.  You will pass by the local community there through a 5 minute walk.
Then you would be greeted with the most pleasant smiles from the crew of Balay Kogon. They will serve you fresh towels and a welcome drink. A very warm welcome after 2.5 hrs of travel.
They will then check you in but you don't have to worry about long queues. You can have a comfortable sit anywhere in the receiving area and a crew will assist you to your room.
For this trip, I chose the hilltop deluxe room. Since, it's hilltop, get ready for some stairs. It's worth it for me because there is the nice view of Mt. Opao. The ocean breeze is so good too and maybe a little cooler at the top. Note that, I travelled November with a less harsh sunny days. The beach cabanas are also available and you wouldn't be climbing any stairs. You wake up with a view of the ocean and the Tomaquin island.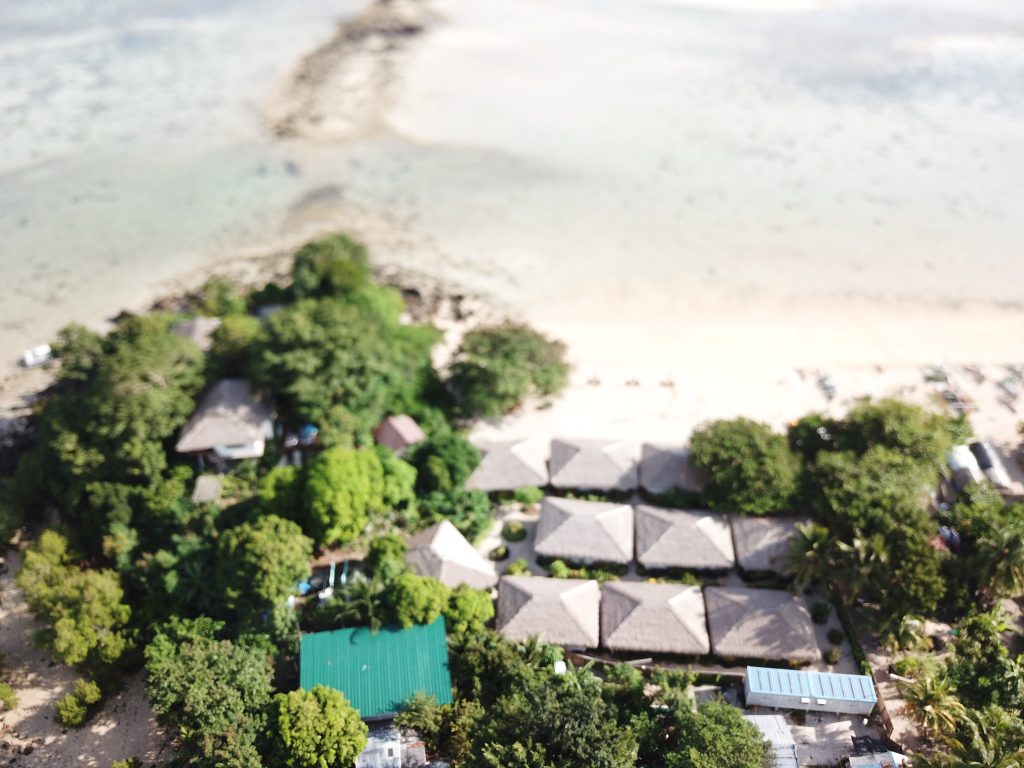 I love my room so much! Balay Kogon is inspired by the Cogon grass which grows abundantly in the island. It is also used for the local's houses since it's sturdy. You will see only white and brown in their architecture. This thrills me as I like seeing the local culture mixed with the somewhat modern taste.
Don't fret about getting hungry in the island because food is available all throughout your hungry hours. The room comes with breakfast and all you have to do is choose between Continental and Filipino. They are quite lenient so if you feel like mixing both, just request it. For example you want your chicken sausage with fried rice instead of a bread or you like your tapa with toasted egg.
My friend, Asha, from Australia, finally arrived after many hours of travel from down under. She came in time for brekky and chose, of course, the Filipino breakfast and I chose the continental one. It comes with coffee too, just in case you are wondering.
For a lunch set up, you can choose to eat by the beach bar/receiving area or their restaurant up top. We decided to spend the whole day at the beach so having lunch by the beach is a better option.
Seafood is Balay Kogon's specialty and Asha is a pescatarian so it was perfect. She had scallops, crabs and prawns while I had the also popular dish in Iloilo called, chicken binakol. It was served in a coconut shell. This was very interesting to me. Note also that Sicogon island is all about sustainability and they use paper straws for their drinks.
Buaya beach is easily accessible by the resort. It is great because it is not rocky so it does not hurt your feet. It is perfect for a swim. A great thing to do here is kayak or paddle board to Tomaquin island but we were feeling exhausted from our travels so we decided to be chill this day. We swam at the most comfortable warm body of water. It was energizing and healing.
bikini by Sassa.ph
Here is a vid showing the Balay Kogon experience.  Don't forget to book Balay Kogon here.  Enjoy!