If you have been dreaming on being in a deserted island with no electricity, no marketplace and no people around, Calaguas is not the place to play this imagination.  But it's close!  You will feel close to nature at this awesome solitary island.  You got the no electricity and no marketplace covered but there will be people around especially on the side of Mahabang Buhangin.  This is the side where campers go for an overnight stay.   A day visit to the island is  like us.  We got you covered.
How did we get to Calaguas?
From Pasay, Manila, we took the DLTB straight to Paracale.  At this time, DLTB Co and Superlines are the only bus company that goes straight to Paracale.  The fare is a little more than P500 (12 US$).  It is a 10 hour drive going here.  Yes, it took us 10 hours! We left a little past 7 and arrived a little past 5am at Paracale terminal.  It has several stops.  If you miss the Paracale direct bus, there are more buses for Daet, then you ride a tricycle or van going to Paracale.  This depends on what's available during the time that you arrive Daet terminal.  There are also lazy boy kind of seats for these buses but they did not fit our schedule of arrival. Bring a little pillow and blanket for comfort.  Sleep in.
Still dark early in the morning, we rode a tricycle going to the Waling Waling port and found it still closed.  Luckily, we saw a cafeteria that serves hot breakfast.  We ordered rice porridge and coffee.
The town is small.  With probably continuous knocking and the neighborhood watching, the boatman found us.  A man came up to ask if we were visitors of Waling Waling.  He said that he is sorry that he is still asleep when we arrived.  We shall leave around 7 am with another set of guests.  Thanks for the honesty and who would not be asleep at 5am?  We walked to the port to await for the other guests and rode a small but sturdy boat.
Waling Waling took care of us starting from their port.  They are a highly recommended beach resort and the most comfortable place to stay in the island.  We did not find any established resort aside from them.
The ride to Mahabang Buhangin, the most visited part of Calaguas, took 45 mins.  You could feel how the ocean can be vast on this ride.  It is a humbling experience to be this small compared to nature.  The waves were big but not strong.   Upon being near our point of destination, some beautiful tiny islands became in sight.
At last, from all the excitement, we finally arrive Calaguas island.  White sand, check!  Like Boracay during the 90s, check! No cellphone signal, check! No electricity, check!  We are now in the midst of nature.  We are ready to be with mother nature and away from civilisation.
We were lucky to have the best weather an island visitor could ever ask.  The sun was shining so bright and the sky was a beautiful hue of blue.  The white sand feels so good on your feet.  It is smooth and powdery.  The water starts green and then becomes bluer and bluer away from the sand.  There is nothing to do but to enjoy and adore this wonderful view.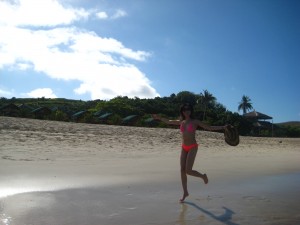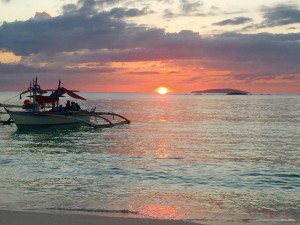 Our place of rest was also comfortable even without electricity.  It could be hot since it's summer but breezy at the same time.  At night, a fan is provided for a comfortable sleep.  With Waling Waling, we did not have to bring anything but our bikinis, SPF 50 sunscreen and bug spray.  This place is definitely worth a visit.