Manila, Philippines – The Mall of Asia Arena were jam packed last August 13, 2013 by Linkin Park (LP)'s Living Things World Tour.  Linkin Park's member Rob Bourdon started the crowd with his drums showcasing him on the screen.  He has been LP's percussionist since the band started in 1996. Brad Delson, also was there from 1996, is the band's lead guitar.  David "Phoenix" Farrell is the their bass guitarist.  He started 1996 too but left the band several times and has been a regular since 2001.
The lead vocals Chester Bennington, LP's member since 1999, was consistently amazing through out the concert.  His energy did not stop from making the crowd scream for more.
Mr Hahn's turntable gave the crowd awesome spins.  It was a great mix for LP's sound effects.
Mike Shinoda (vocals, rapping, rhythm guitar, keyboard samples) of Linkin Park goes down to the crowd.  The crowd accepted the rockstar with loads of hand hellos, hand shakes and happy gestures.
Thousands of people stood up and enjoyed the great music LP offered. They played new songs from the Living Things album and some hit familiar songs.  People were singing with the band as the familiar songs were played.
The screen showing Linkin Park's symbol "LP."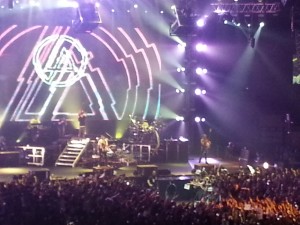 After the concert, the front of the Arena were packed with fans. Overall, the concert was great.  LP remains to make their music excellent by mixing rock and electronic sound together.  The venue provided perfect space for a rock concert of LP's standard.  The back screen played during the concert was simple.  It showcased the band member's mostly.  There were additional screen effects but was limited.  Guessing that they want the people to focus over the great sound of LP.  They did a remarkable job on how the band sounded.  Great music it is!  Great sound and lights were also made over the stage through out the concert..