You want to watch your top sportsbooks not in your house but somewhere that has a sporty ambiance yet you want your steak for dinner and cake for dessert.  You look at your options and line several sports bars around your area.  The best option you have is a sports bar that offers loads of different booze.  You think you really need a good meal with the booze.  Hmmm…
There might be a solution to this problem and its owned by a Filipina woman and her Aussie husband, Skippy's is your everything sports bar.
In the morning, they serve satisfying brekky dishes from pancakes to hash browns.  The Big Breakfast aim to fill big appetites! Combination of all of Skippy's all-time favorites – bacon, pork sausage, baked beans, hash brown, 2 eggs done any way you like it, with bread and grilled tomato and mushroom on the side.
The menu does not stop here.  They also serve international dishes from pizza to burgers to pasta to rice meals to soup and salad.  The list is endless.
The Lot Pizza (P450) is Skippy's best-seller combining all ingredients that makes a great pizza: pepperoni, ham, bacon, ground beef, black pitted olives, onion, mozarella cheese, jalapeno, anchovies and bell pepper.
Get ready to satisfy your hunger with the Aussie burger (450)! Not for the faint-hearted and meant for sharing. Tower of goodness with all- beef patty, cheddar cheese, lettuce, pickles, beet root, tomato, onion, fries, pineapple, egg and bacon.
A favorite among seafood lovers is the marinara pasta (P350). Linguine pasta with seafood variety cooked in white wine and olive oil with herbs and spices. Topped with parmesan cheese for a happy ending.
Flavourful, moist 500g rib-eye steak (P1750) guaranteed to satisfy all carnivores! Choose how you like it done. Served with our famour pepper sauce, oven- baked potato and side salad.   It's huge Aussie ribeye and ready for a carnivore.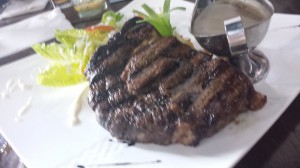 A well-loved staple in pubs! Battered fish deep-fried to perfection with crispy fries on the side.   Here comes the fish and chips (P450)!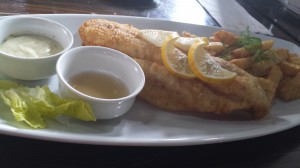 The roast lamb(P1850) is marinated to perfection then slow- roasted for that delectable taste. Comes with oven-baked potato and sweet pumpkin as side dish. You cannot go wrong pairing it with the mint jelly.  It is also good for 4 pax.
Finally close it with a perfect ending to an Au-some feast! Melts in your mouth cheesecake leaving you coming for more.
PS.  They also have outlets everywhere in case you wanna make it as your office desk with loads of food and booze.