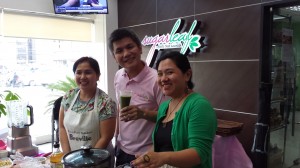 Sugarleaf and Jertie's Kitchen are your green guide to eating right.  They are here to give health talks and cooking workshops every Saturday starting October 18, 2014 until February 7, 2015. They also want to teach that eating healthy is not expensive and they are here to show you that.
Here are some easy vegan recipes that  can help in your transition to a healthier lifestyle: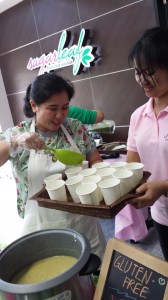 Cheesy Broccoli Soup
Ingredients:
1 onion chopped
2 cloves garlic minced
2 cups vegetable broth
2 cups non-dairy milk
1 bunch broccoli, cut into florets, stem trimmed, peeled and chopped
3/4 cup nutritional yeast flakes
2 tsps lrmon juice
freshly ground black pepper
2 tsps oil (optional)
Method:
-Add broth, milk, and broccoli.  Cover and let it simmer for 2 minutes or until broccoli is tender.
-Set aside a few broccoli florest.  Transfer the remaining contents to a blender and puree.  Return pureed soup to post and add the remaining florets.  While it's heating, stir in nutritional yeast until everything is incorporated.
-Add lemon juice and season with salt and pepper.  Mix well.
-Serve with rackers or bread on the side.
Serves 4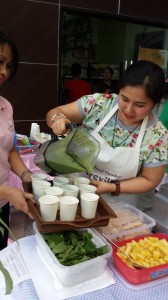 Banana Pineapple Green Smoothie
Ingredients
2 cups greens
2 frozen bananas
1 cup pineapple
2 cups water
4-5 ice
Method
-Place all ingredients in a blender, with greens in first, and blend.
-Makes 1 500 ml glass.
There's more to learn in their workshop for only P1500.  As they say, health is wealth.  It's always good investment to take care of yourself.
It was great fun preparing this for you to enjoy, I enjoyed eating all that afterward don't worry about that. The blender I'm using, I found by reading this review of best juicing blenders. I found that this one suited my needs and I liked how it looked. As always, please be safe while you prepare food with machinery and knives.