www.mycarnation.ph brings you the second season MMMMary's Kitchen.  The show will not only have new recipes and tips, but it will also give you a glimpse of Mary's life.  You'll finally see Mark, Mary's loveable (and funny!) husband, as well as Mommy Eva, Mary's health-conscious mom.  You'll also get to meet Bonnie, Mary's outgoing BFF!
This 10 episode season is going to full of new recipes and tips from all the different people in Mary's life.  Check out the episode guide and some inserted recipes to entice your season two:
 1 Home Sweet Home, the Second Time Around!
Mary and Mark move in to a smaller house that is closer to Mark's office.  Mark's constant OT at work as well as trying to juggle running a household takes its toll on Mary. 
2 We Are Family!
Mary gets a surprise visit from Mark's mahadera relatives.  She frantically cooks a homemade meal only for it to end up less than perfect.  Luckily, Carrie comes in just in time to transform Mary's dish into something incredible.
 3 When the Budget Budges
The unplanned visit of Mark's relatives put a dent on Mary's weekly budget.  She calls up Mark, who is out on a business trip to tell him about the budget issue.  This leads to a slight tampuhan between the two couples.  Mama Carrie visits and gives Mary a tip on how to win Mark's forgiveness.  She also tells Mary that she's moving to the States—for good.
 4 Peace Offerings
Mark comes back home from his business trip and brings Mary pasalubong as "peace offering".  The two patch things up and Mary cooks a special dinner with Mark's favorite dishes.
5 BFF's forever
Mary's BFF Bonnie drops by the house for a surprise visit for a quick catch-up. Mary realizes she misses having her best friend around. Mark arrives and talks to the two girls, realizing his wife has missed having a female around. Meanwhile, Mark secretly makes a phone call to a woman. Who could it be?
 6 Mother knows best
Mommy Eva comes to visit her little Princess, Mary.  She surprises the couple with her new-age outlook in life.  She bonds with her daughter over cooking, and takes notice of Mark's constant absence in the household.  She calls this out to Mark, possibly creating tension between them.
 7 A New Career?
Mommy Eva encourages Mary to look into selling her crafts. Eva and Mary spend theafternoon with the crafts project while Mark whips up a surprise snack for the girls.  Mark makes peace with his mother in law.
8 A Taste of Sweet Success
Mommy Eva suggests that Mary try and sell her crafts online, just in time for Christmas.  Mary whips up a batch of delicious cookies, that she takes a photo of to post in her blog.  Immediately, people are starting to inquire about her baked goodies making Mary wonder if she still wants to continue with her crafts business.  The whole foray of selling home-made goods made Mary think about what she gave up to be a full-time housewife.
 9 Mommy Eva to the Rescue
Mary is juggling orders for her cookie business and has forgotten to plan for her Anniversary dinner with Mark.  Meanwhile, Mark accidentally eats a box of cookies to be delivered, adding to Mary's stress levels.  Thankfully, Mommy Eva secretly whips up a batch of cookies while Mary was napping.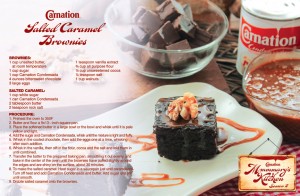 10 Anniversary Surprise
Mary was able to pull through with her Surprise anniversary dinner with Mark with the help of her Mom and Bonnie. After preparing the meal, she gathers Mommy Eva, Bonnie and Mark for a surprise announcement:  She's pregnant!
Website: www.mycarnation.ph
Facebook Page: www.facebook.com/mycarnation.ph
Youtube Page: Carnation PH
#maryskitchen