MANILA: 20 November 2014 – Rebranding today as Hotel Jen Manila, the Traders Hotel Manila is the first to welcome the Hotel Jen brand in the Philippines. Catering to a new 'Jeneration' of independently minded business and leisure travellers, the brand will launch quickly with ten Hotel Jens opening in major cities in Asia Pacific by March 2015.
The Hotel Jen brand is inspired by the virtual persona Jen, a professional hotelier who loves life, travel and the adventure of discovering new places. Hotel Jen takes care of guests with efficiency and care, while also giving them informed access to the best a particular destination has to offer. The concept of Hotel Jen provides travellers greater flexibility to blend the boundaries between business and leisure.
Mr. Greg Dogan, president and CEO of Shangri-La Hotels and Resorts, said "The rebrand of Traders Hotel Manila to Hotel Jen Manila is another milestone for our new Hotel Jen brand. "True to the new brand and brand values, the Hotel Jen Manila team are embracing the changing demands of today's more independently minded travellers; who seek simple pleasures, easy efficiencies and the opportunity to indulge their sense of adventure. "We have been looking forward to introducing our hotel concept in Manila for our existing and new customers who share a 'millennial' mind-set and seek fuss-free simplicity when traveling for leisure or business."
Hotel Jen Manila will bring an intuitive service attitude and relaxed, friendly style to the diverse collection of existing and new mid-range hotels situated in the best locations in Asia Pacific.
Mr. Gordon Aeria, general manager of Hotel Jen Manila, added: "The rebrand is about changing our approach from the inside out to adapt to the rapidly changing needs of today's 'millennially minded' travellers, which I believe should start at the very heart of our hotel – our staff. Our established team of loyal staff have spent the past few months embracing the Jen values: fun, friendly and fuss-free. "Hotel Jen Manila will still bring guests the same level of quality as before but now with a more intuitive service attitude and relaxed, friendly style."
The first thing guests will notice as they enter the hotel is less formal staff uniforms. An informed and friendly service style continues by allowing guests to discover the best of where they are through unique recommendations, from unusual boutiques to trendy bars and restaurants in town. The Hotel Jen team will be a guest's own personal local lifestyle guide, making them truly feel like they are staying with a friend.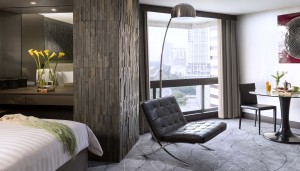 Hotel Jen Manila's 312 guestrooms and suites are among the largest in the bay area, with full-length windows offering awesome views of the famous Manila Bay and the boulevard. In guestrooms, guests will notice the extra touches from handwritten notes from staff to the re-useable ziplock amenities bag and, for VIPs and Golden Circle members, a cup of local, seasonal chopped fruit served with a bamboo skewer. All these extra touches offer guests what we describe as a simple pleasure.
Easy fuss-free efficiency is supported by a cutting-edge technology throughout the hotel; fast free WiFi available everywhere, always; mobile charging stations placed conveniently throughout the hotel to keep your devices on the go and the newly renovated coffee.com operating 24-hours a day, which provides an ideal place for small meetings or simply to enjoy a sip of good, fresh coffee.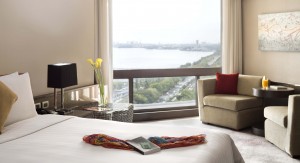 Home comforts include laundry wash and fold service at one price for unlimited items in the laundry bag; a PressReader app with free access to 2,500 online publications, replacing the traditional morning paper; free coffee and snack-box-to-go options after breakfast and an ice-cream cart to satisfy a guest's sweet cravings. Guest comfort and safety are an absolute priority and there will be no compromise on existing, high-quality standards.  For added convenience, the hotel features a vending machine with beverage and snackitems priced at convenience store levels and an 'OnTheGo' deli counter offering quick meal solutions.
Hotel Jen Manila is located on Roxas Boulevard. The international and domestic airports are only 20 minutes away, and 30 minutes to the Makati business district. The hotel is adjacent to the country's premier conference and exhibition facilities – the Cultural Center of the Philippines, Philippine International Convention Center, World Trade Center and SMX Convention Center and 10 minutes away from the SM Mall of Asia. Malate, the entertainment district of Manila City, is within walking distance of the hotel.
In the next phase of the Hotel Jen roll-out, Traders hotels in Maldives, Beijing, Shenyang and Johor Bahru will be rebranded from January to March 2015. Hotel Jen development projects are under consideration in key gateway cities in Asia Pacific, with plans to expand globally in the future.
About Hotel Jen
Hotel Jen is a diverse collection of hotels in the best locations across Asia Pacific, with a unique brand of style and service delivery designed to appeal to a 'New Jeneration' of travellers.  The brand is the brainchild of virtual persona Jen, a professional hotelier and all-time lover of life, travel and discovery.
To guests, Hotel Jen delivers quality, comfort, convenience and value with a twist. Jen cares about what really matters to guests – the important things done well; comfortable rooms and honest authentic service; respect, privacy and efficiency served without fuss or intrusion; cultural insights; interesting experiences; and fast, free WiFi everywhere, always.
For more information and reservations, please contact a travel professional or book Hotel Jen.