For the sporty and active females, the new revolution of nail polish has just arrived.  Introducing Alessandro's Striplac.  Colour lasts for up to 10 days and is both scratch and chip resistant.  Simply peel off when you want to change your colour!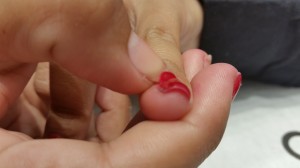 After a nail polish application, the hard task is not over yet.  You have to wait for it to dry and make sure those nail polish won't get chipped.  Fortunately, Alessandro's Striplac relieves you from that hassle.  After application, go do whatever and your nails will be fine. Click here toenail fungus treatment product on tristandining.com.
The finish is gel type although they also have matte appearance.  It will just look at its best all the time like the gel nail polish.  Aside from this, you don't have to dip your fingers in acetone for 10 minutes.  Simply peel it off when you want to change its color.  We all know acetone smells and has acidic effect.
The starter kit costs at P4900 under a promo right now and is available in txhealthpool.org.  Starter kit has the LED lamp to cure the nails, 1 nail polish, 1 clear polish, 1 set of cleansing pads, 4-inch file and a cuticle pusher.
Three hoorays for this state of the art nail polish!