Healing back pain takes so much patience. Aside from the healing time, you also have to add alternative ways to help you get relieved. For this, Peakform helps patients achieve their peak form by modalities that involve science and technology.
Coming with a low back pain, Inspire Atlanta recommended me to try their shockwave therapy. This machine is known to blast kidney stones. To add more, it also helps on scar tissue, sore muscles and inflammed tendons.
The first step is using the Chattanooga machine. This is a laser equipment that dictates where exactly the pain is coming from. You hold a metal object and a laser points out to your body. In my case, it was pointed to my lower back. The laser was able to find where the pain exactly is.

Next is the electrotherapy massage. Its a mild sensation that you will feel. Remember the times when you hit your leg to a table and you just touch it lightly to relieve the pain? It has the same philosophy. Your physical therapist will help put patches directly to the painful areas derived from the Chattanooga machine.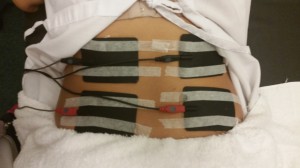 Finally they will use the shockwave machine.  You've heard of the machine they use to blast kidney stones. You notice the machine is specially calibrated such that it does not harm the skin, muscles, bones and the kidney; it targets only the stones. This machine follows the same principle but now we focus on scar tissue, sore muscles and inflamed tendons. Normal tissue is spared so you don't have to worry about over-treating. A few thousand "shocks" in less than five minutes and you're on your way.
It could be ticklish for some:
Peak form also offers:
Cryo-Treatment: CRYO MACHINE
Very few top-notch physical therapy centers that have this piece of equipment. Athletes complain of muscle and tendon soreness and joint aches during and after competitions. This slows them down in terms of training since they still have to mend. What we do with this machine is literally freeze the pain and swelling away. You only need a few minutes in one area,and we'll get you back to working out in no time.
Laser and Ultrasound Therapy: LASER & ULTRASOUND COMBO MACHINE
These are the basic tools in physical therapy centers; they remain the gold standard in the treatment of inflammation. They are very helpful in dealing with muscle spasms and any form of swelling. Patients are known to fall asleep during treatment from the soothing effects of these
Sports Massage and Full-Body Stretching
Athletes are prone to developing fibrous tissue or nodules between the muscle and fascia (the paper-thin covering). We often hear the words 'lamig' or 'hangin', terms used by masahistas. Obviously, medically speaking, there are no such entities. Scar develops frequently due to overuse and improper technique as well as a poor understanding of stretching, warming up and conditioning. Myo-fascial release therapy is a technique developed to break down scar tissue (which is the enemy) and help muscles regain proper flexibility and strength.