Stem Cell Therapy has been one of the most groundbreaking and revolutionary innovations in the medical field since the introduction of organ transplantation. Because of its importance in human regeneration, this very promising field has been featured numerous times and extensively in top media outlets such as Time magazine, CNN, BBC, NatGeo, Discovery Channel among others.
"The applications and opportunities for cell therapy are endless in regenerative medicine. In the near future, it can probably cure the dreaded cancer and other deadly, incurable diseases," says Dr. Eder G. Dizon M.D., Managing Medical Director of the newest, high-end, multi-specialty regenerative medicine clinic called EA Regenerative Medicine Center of Excellence during its recent presscon and first year anniversary event.
Sadly, some unscrupulous individuals who wants to cash in on the stem cell boom, offer the treatment even without any technical and medical expertise, thereby causing more harm than good.
Fortunately for Filipinos, EA Regenerative Medicine wants to erase this stigma. "We want our countrymen to know that there is this reputable clinic that strictly adheres to proven best practices in this promising field and reinforces this with reputable, state-of-the-art medical equipment and competent medical staff," says Dizon.
"Traditionally, people would go to great lengths and travel to other countries such as France, Canada and recently China to avail of this rare but high quality treatment. But now, we have one right in our own backyard," he proudly exclaimed.
EA's ultramodern and stylish clinic boasts of technology from leading Cytori Therapeutics, a world renown and reputable cell therapy company. During his presentation, respected plastic/stem cell surgeon Florencio Q. Lucero, M.D., who is also EA's resident surgeon, said cell therapy has been gaining ground in other countries due to extensive support on the research and development side by leading medical institutions. He says EA's cell therapy has wide ranging applications from acute diseases such as stroke and heart diseases to plastic surgery and cosmetology. Cell therapy's core is tissue regeneration. Lucero cited the regenerating properties of certain fishes and lizards. "When the tail of your common house lizard is accidentally chopped off, after a few days you can see a new tail growing. This is the same principle we use in regenerative medicine. This means that whenever a body part is injured or broken, cell therapy can heal it or bring it back to its original state," he explained.
Other Groundbreaking Treatments:
Aside from cell therapy, EA also offers Deep Transcranial Magnetic Stimulation (DTMS) from Brainsway, a breakthrough treatment for various kinds of neurological acute brain and psychiatric disorders such as Depression, Alzheimer's, Parkinson's, Bipolar Disorder, Autism and even addictions such as smoking and drugs. "It is a deep but non-invasive treatment, probably a first in the country, to help patients who are resistant to traditional forms of medicine or who have tried out unsuccessfully every available treatment," says Dizon.
EA also introduced the Shockwave Therapy. Shockwave is an acoustic wave which carries its high energy to the painful spot and provokes healing and repair processes. It is used to treat tissue, bone and muscle problems and helps regenerate them through a series of controlled applications much like the effect of hand massage.
It also caters to the senior citizen sector through its geriatric assessment program, a complete and comprehensive treatment package meant to prolong the life and increase the quality of life of a senior citizen.
On top of these services, the center also employs its own world class ambulatory surgical complex and a StemSource Cell and Adipose Tissue Bank cryogenic facility, the first and only one in the country to date. With this facility, patients no longer have to go out of the country to avail of the Cytori Cell Therapy. The clinic allows patients to harvest and immediately benefit from these cells, or they can opt to bank their cells or excess fat tissue for future use.
To know more about the center, visit www.earegenmed.com , e-mail edergdizon@earegenmed.com, abiebiruar@earegenmed.com, pompeyo_bautista@earegenmed.com or call +63 917 599 9385.
Photos:
Driving Forces behind EA Regenerative Medicine Center of Excellence (L-R): Udi Lowy – Manager, Brainsway Asia Inc., Dr. Antonio C. Sison – Psychiatry, Dr. Florencio Q. Lucero – Plastic Surgery/ Fat Stem Cell Surgery, Dr. Aenelle B. Dizon – Dermatology, Dr. Eder G. Dizon – Managing Director of EA, Dr. Kathleen P. Garcia – Anesthesiology, Dr. Pompeyo R. Bautista – Medical Director/ Nephrology, Dr. Ferdinand V. Alzate – Interventional Cardiology, Dr. Miguel A. Ramos – Internal Medicine/ Geriatrics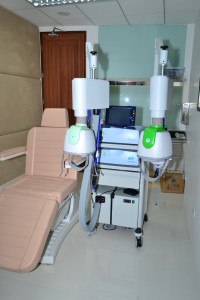 The Brainsway Deep Transcranial Magnetic Stimulation equipment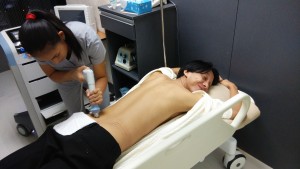 The Shockwave Therapy treatment being done to a patient
The StemSource Cell and Adipose Tissue Bank cryogenic facility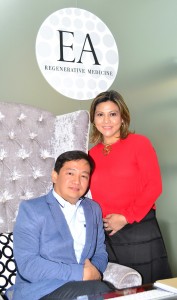 Dr. Eder G. Dizon, managing medical director of EA Regenerative Medicine Center of Excellence with his wife Dr. Aenelle B. Dizon, a dermatologist.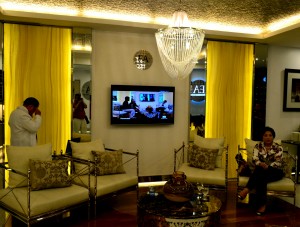 EA's ultramodern and stylish clinic has world-class facilities