It was like The Amazing Race going to Bohol.  The traffic in Manila is quite ridiculous as the road in the airport is getting fixed.  We made ample time for the travel and we also did a web check-in to be sure that we will make the flight.  Alas, as we made it to Terminal 3, the flight counter advised us that we are in the wrong terminal.  We have 1 hour left before the flight time and the airport is not an internal train away.   This means coursing our way through traffic towards terminal 4.   We then hired a cab that would do Fast and Furious around the traffic.  We were successful!  This cab driver knew the tricks of getting through the cars and we made it 30 mins before the plane leaves.  We, then, went straight to counter 12 to get assisted.  They let us in even with a closed counter but when it's time to show IDs,  I forgot mine and I have scattered everything that was in my bag on the counter.  After enough pleading, we were allowed to ride our plane. Whew!!!
Our plane left ahead of time.  15 mins ahead of time, which is unusual.  Then we landed the airport of Tagbilaran in about a few minutes after an hour.  The runway was short so expect a land and brake kind of landing.  The airport is quaint like the usual country airport.
The province of Bohol has two sides, Bohol side and Panglao side.  Bohol side is were all the country activities are like chocolate hills and the tarsiers.  While the Panglao side have the bigger resorts.  There are more things to do in Bohol side and you find some rest in Panglao side.  Panglao side also has great beach bars where its fun to visit.  Panglao is like a small island connected to Bohol.  The bridge is exciting to cross because you know you are crossing islands.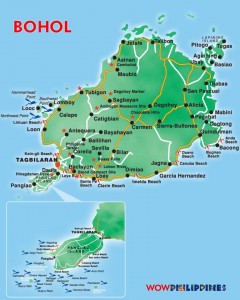 Blue Water Panglao was our first host hotel.  It is a 5 hectare land with plenty of leisure activities to do.  We enjoyed kayaking, snorkeling, biking, driving an ATV, swimming and lounging at this resort.  It is quite luxurious to stay here.  The place is beautiful with a private beach and a beautiful sunset.
On the second day, we visited my friend Anqi Lim of Qi retreats.  She has been a friend from Ultimate frisbee and enjoys diving.  But this day, she gave us an SUP Yoga treat.   She teaches SUP Yoga in Amorita resort, Bellevue resort and Oasis resort.  Check out their FB page for more inspiration.  You may also contact her at +63 9771366893.   The experience of SUP Yoga is truly a gift.  We enjoyed the slight wave of ocean while we take care of our immune system.  We were also blessed with good weather.    
Another good side trip in Panglao is the Tarsier Botanika.  Go to the original one as the view is spectacular.  Also go for lunch or sunset.  The full moon is also a nice view.   Food and service here is excellent.  They make fresh bread and assorted spread for appetiser free.  Budget P700 each for a 3-course meal.
We bid our good byes and moved to our other host hotel, Ocean Suites in Bohol Side.  This hotel is not an ordinary boutique hotel.  This is where people go for a nice photo view of Panglao side.  It has a humble front but a boastful view. For non-stayers, you could also come for their restaurant.  They have the best fish and chips ever.  The fish is made from th fresh catch of that day.  We had a fresh caught Jack fish this time.
It is best to do the country side trips in Bohol side because it is nearer.  The Panglao side also offers the same kind of of trips but it is quite far.  We shared a vehicle with another group.  Please be reminded that some private drivers offer small cars like a Hyundai Getz or a small Suzuki.  This may not be comfortable for a group of four or five pax.  The driver and car usually costs Php2500 or $50 for a day.  Some vans offer Php400 or $8 per person and you pay entrances which would cost about Php1600 or $32 all in all.  The usual trip starts at 8 or 9 am and ends at 5pm.  You could do your own itinerary if you like than the usual set of travels.  For us, we did the zip line, tarsier and chocolate hills in the morning.  I also get to try protein worms for snack.  Eoww!
The day is not over so we decided to go for another Stand up paddling session.  This time in Loboc river.  Instead of the usual lunch cruise, we opted for something different.  SUP Tours have packages in Bohol, Coron and Dumaguete.  Our instructor, Troy, taught us some styles and tricks for beginners and advance students.  They also have lodging if you feel like doing a full on stand up paddling sesh (here, better see the guide on the Paddler's Way website in advance).  Paddle with you soon!
Along the way, we past by a nice cafe on the street near Ocean Suites. It is called Mosai Cafe and it is owned by a friend we recently met.  From Russia to San Francisco, they decided to stay here in Bohol.  The cafe is very nice and neat.  They have assorted cakes to offer.  The cupcake I tried is lavander cupcake made from fresh lavander flowers.  What a treat!
After the SUP in Loboc and a short visit to Mosai Cafe,  we went to another side of Bohol where it's not part of the day trip packages.  Our friend "Baggy" who we met in Ocean Suites became our local tour guide.  He took us to the tower that fell down during the great earthquake that happened last 2013.  Due to the earthquake the land was able to extend 50 more meters.  We got a brief science and history class this day.  We also went for a mangrove tour.  It was nice crossing this long and rustic bridge towards a beautiful sunset.
Exhausted and hungry we drove to Panglao to visit the original Bee farm.  You might see Buzz Cafe everywhere in Bohol and these are their satellite restaurants.  They have excellent fresh food at an affordable price.  Everything here is organic.  Experience great healthy food here.
It was heartbreaking to leave but we will surely remember Bohol and its beauty.  Bohol has super nice people who we will dearly miss.  They have natural, raw beauty which is truly captivating.
My bff speaks Visayan but some conversational phrases I learned were:
"Maayong Buntag" = Good morning!
"Maayong Gabii" =  Good evening!
"Daghan Salamat" =  Thank you very much!