Bohol is definitely, one of the best places to visit in the Philippines.  The first place we visited in this island is the Panglao side.  Panglao was really nice, restful, serene and beautiful.  But if you want to enjoy Bohol fully, then you must set yourself towards the Bohol side.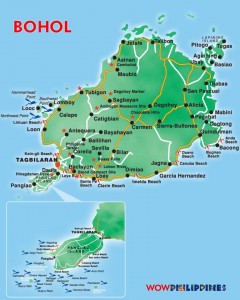 Ocean Suites is an easy pick for travellers to Bohol.  They got the best view and they are a luxury for its price.  This place is for everyone to enjoy.  Kids can have a grand time swimming.  Adults would find this place relaxing and the yuppies could feel its young but mature vibe.
The hotels in Bohol are usually on the high range or at the low range.  Fortunately,  the Bacareza family of Iligan City built a boutique hotel in Bohol for the mid range.  Thus, Ocean Suites.  This hotel is strategically built to see the view of Panglao and be in Bohol side at the same time.  Mr. Wolf Bacareza had a vision and he built it.  He recently visited south of Italy to get some inspiration. He was quite proud that Ocean suites is not far from the hotels that he visited.  The difference is, they charge 500 euros!
The rooms are not that small compared to most boutique hotels.  The view also makes it vast.  While the bathroom provides rain shower heads.  If you feel like bathing, the family room suites are for you to enjoy.  This room can be occupied by 6 family members or friends.  Furthermore, the details of this hotel is well thought of.  The rooms have two sliding glass windows perfect for the view.  This hotel is not the usual rectangular building where they put as much rooms as possible.  Ocean Suites made sure that you will feel relax and homey at their hotel.
Ocean Suites also have Premier rooms for a more spacious room for 4.  While for the budget conscious, a standard room is available.  It is not the window side but you could enjoy the same view when you go to the restaurant and the other two infinity pools.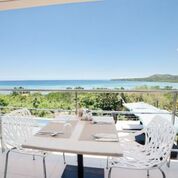 The restaurant has delicious food.  Modesty aside, they hired a British consultant for their menu.   A personal favourite is the fish and chips, which we ordered for lunch and dinner.  It was that good!  We also recommend the Humba.  Humba is an original Visayan cuisine.  It is famous in Bohol and the restaurant makes it taste as perfect as the homemade Visayan version.  For desserts, don't leave without having their freshly baked cake.  We were fortunate to try their blueberry cheesecake.
This place is never boring.  The view will always excite you and if you want some happening, Ocean suites have acoustic bands come in on weekends.  Dinner with friends is always fun here.  Even locals come to visit for good food and music.  For early sleepers, do not fret.  It is standard rule to keep your hush by 11 pm to respect the guests.
In the morning, visitors enjoy the two floor infinity pool.  The topmost infinity pool is where most visitors hang.  It is also the restaurant floor.  Tourists and local alike would come here and enjoy the food.  While some would get a book from their mini library and read it at the lounge. The bottom infinity pool is more private.  You can play ping pong and other board games here.
We had a blast in Ocean Suites.  It is our home away from home.