I had one of the most sumptuous and filling dinner I have ever had in Davao. The negative side is that it did not cure my seafood cravings.  It made me ask for more!  Blue Post Boiling Crabs and Shrimps is along JP Laurel avenue.  It was my last stop before I leave for my trip back to Manila.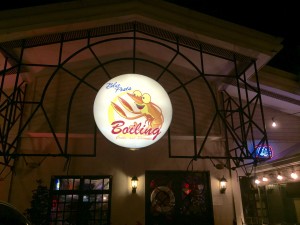 The place welcomes you with a big hello from their staff.  It is not a mellow crowd but a young and vibrant atmosphere.  The shack is vandalised everywhere which gave it's rugged feel but the place is clean and well kept.  There are two sections on their first and main branch.  The first section, when you enter, is mostly couches.  It has a decoration according to the season.  Meanwhile, if you go further in, you will find a bigger venue which plays sports on their big TV.  It has a sports bar feel and coziness at the same time.
Once you dine, you can start with the unlimited drink brought by Nestle.  This bar is called mixology and you can mix your drinks according to your mood.  This night, I was craving for pineapple and some orange juice.  Thirst quencher!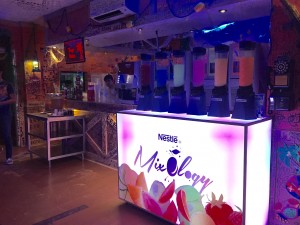 Here comes my most awaited part where they serve you the bucket.  The bucket contains the shrimp wrapped in plastic.  I was served the hot and spicy sauce.  This is one of the bestsellers.
A lady came over and assisted me with the bib so that I do not mess my top.  I still have miles to travel.  Then she set me up with a meat softener, a cracker and a brown chopping board together with my utensils.  The fried crab followed (heaven!), and the native chicken (healthy alternative).
I have to admit that I was not successful on finishing everything.  It was unfortunate to leave no room for desserts.  Instead, I get to chat with the men behind this famous joint.  They only started two years ago when the owner went to US for some research.  He then, brought this idea in Davao City.  It was a hit.  Plenty of local and tourists alike visit this place and had a great time.  I could see this with their guests and myself.  It was great stopping by this place before I leave.  Get to know them more by liking their FB.