MANILA, PHILIPPINES – Lazada Philippines, the Philippines' One Stop Shopping and Selling Destination today announced the launch of the Lazada Online Revolution Sale which is set to be the biggest online Christmas sale of the year. The month-long sale kicks off on November 11 and will run until December 12.
The date November 11 or 11/11 is popularly known in China as "Singles' Day", a day to celebrate singlehood. E-commerce retailers in China have turned this holiday into the world's biggest online shopping event, selling over US$9 billion worth of products last year. In 2013, Lazada introduced the 11/11 Online Revolution Sale in the Philippines to mark the start of the Christmas shopping season and has since then set online sales records each year.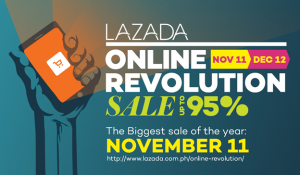 This year, Lazada Philippines expects to break new records as it anticipates over 2 million visits to its website and mobile app on 11/11. Big brands and merchants will join the sale and are bringing in over 200,000 marked-down deals up to 95% off across 13 product categories including electronics, fashion, kids & toys, and home. Exclusive items on flash sales and P99 peso deals will also be revealed on 11/11.  Brands that have confirmed their participation in the sale include ASUS, Lenovo, Alcatel, Cherry Mobile, Bosch, Belo, Huggies, Mamy Poko, Timex and Giordano watches.
As an early treat for Lazada fans and shoppers, special items will be available to purchase at only P11 each. Lazada bestsellers such as Sandisk 8GB flash drives, 5600 mAH Powerbank, and 4-layer shoe racks will be available to purchase at P11.00 starting today until  11/11. The P11.00 deals will be announced at 11:11am everyday on one of Lazada's social media channels (Twitter: lazadaph, FB, Instagram: lazadaph).
"We have been working very hard together with our merchants and suppliers to bring these amazing deals to our customers. We believe that online shopping will provide a lot of convenience to shoppers especially during the holiday season. By shopping online, they can avoid heavy traffic, long lines and crowded areas," said Lazada Philippines CEO, Inanc Balci.
Some of the greatest deals include tech devices such as tablets, cameras, phones and phablets.  Don't forget to log in and shop at the biggest online sale in the Philippines!