Fujifilm is launching three new stylish colors for the Instax Mini 70 instant camera: Midnight Black, Passion Red, and Stardust Gold, making it the perfect accessory for the cool and the fashionable. With its new colors, the Instax Mini 70 can not only capture your OOTDs, but match them perfectly as well.
Late last year, Fujifilm launched its Instax Mini 70, initially available in three colors: MoonWhite, Canary Yellow, and Island Blue. The instant camera has a sleek and modern design, and is the perfect camera for taking selfies. Its new selfie mode provides the appropriate brightness and shooting distance for any selfie, and its selfie mirror located beside the lens allows you to check your framing before you take that shot. Its automatic exposure control captures bright backgrounds and subjects even in the dark, letting you take a selfie anywhere you go. Another awesome feature is the hi-key mode that lets you capture bright beautiful skin tones, giving you flawless selfies.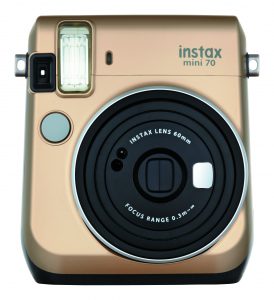 The Instax Mini 70 is the perfect fashion statement for any occasion, and with its selfie-friendly features, you'll be sure to instantly capture life's most memorable moments wherever you go.