Sometimes (or often), you just really need that food that will satisfy your hunger and taste buds.  There is a call for a meal that will make you say " I'm good!".  At Fat Daddy's, feast your eyes and your stomach with their satisfying food.
The smoke house food here is prepared and smoked for 16 hours.  Who does that?! Only the true and authentic die hard smoked food fans, the 4 siblings of the catering pioneer Josiah's Kitchen.  The idea was conceptualised during their travel in the southern part of USA.  They hope to be the frontrunner in introducing the art of making great home -cooked meals, through smoking in the Philippines.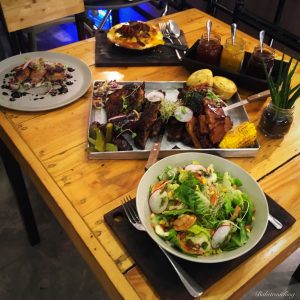 What is smoking?  Smoking is the process of flavouring, preserving or even cooking several kinds of meat through the exposure of the meat items to smoke induced from burning materials, which is often wood.  Fat daddy's have been experimenting on different kind of woods and have perfected which wood fits best the meat.
For starters, I love the hot pork poppers, buttermilk livers and the crispy fried pickles.  The hot pork poppers it thinly sliced rub dusted pork belly and comes with piedmont sauce.  While the buttermilk livers can be truly appreciated by the buttermilk fans.  Fret not with the non pickle lovers as they barely taste and it comes with their super good Alabama bbq sauce.
Then order that soup and salad if you need to have some vegetable in your diet.  I highly recommend the wild mushroom soup.
Thirsty?  I offer you 2 memorable and something different shakes.  First is the smokey maple bacon milkshake and then the caramel popcorn milkshake.   See the photos to appreciate and order to experience.
Fat Daddy's is made as a fast and casual type of restaurant.  Servings are good enough for sharing and also affordable for everyone.
Let's go to the main.  Burgers?  Fat daddy burgers are humongous! Not just their bread but also their patties.  The Brioche burger buns are made from scratch.  Oh and btw, the potato chips on the side is completely homemade and made from fresh selected potatoes.
The meat!
Sausages and bacon are also made from scratch.  While the US beef brisket is marinated overnight and rubbed with Fat Daddy's secret recipe.  These are smoked for 16 hours and tossed quickly to their homemade BBQ Sauce.  It is glazed with Piedmont sauce.
You can choose from their assorted sides.  Namely corn bread, Texas fried rice or mashed potato.
Don't leave without the dessert.  This bacon and 'smores dip is one of their best sellers.  Of course, the bacon is homemade in the chocolate ganache, roasted marshmallow with sides of graham crackers.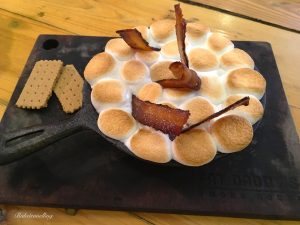 Fat Daddy's interior has the bare-bones vibe.  The dining counter overlooks the main kitchen area.  Wooden and metallic elements are the focal points of the restaurant design.  While the wall decor is completely hand painted.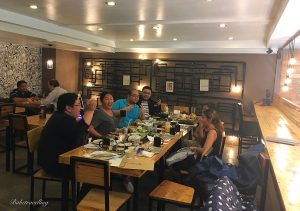 Fat Daddy's original restaurant was first established in Marikina by the famous catering family business, Josiah's Kitchen.  They are located at 171 Dao st.  Corner East Drive Marikina Heights, Marikina City.  Now, they have expanded to BGC and have allowed guests who are from Markina to taste their delicious food.
Fat Daddy's is located at Burgos Circle, BGC.  Restaurant hours are from 11am to 12pm and can extended if customers come in bulk and are still enjoying their meals or drinks.