Are you a star follower?  I'm talking about Michelin starred restaurants.  In HK, you can find several.  The most affordable Michelin star Tim Ho wan, also found in HK, has been popularly visited by many tourists and locals at the same time.




It's time to try other Michelin starred restaurants and we were fortunate to try Ciak (pronounced as chak) .   Ciak is found in the 3F, Landmark Atrium, Shop 327-333, 15 Queen's Road Central, Hong Kong.  It is quite easy to go here through the MTR and get down at Central.  Then walk to the Landmark exit.
So let's go on and dine at the resto….
You will be welcomed by a friendly host to sit inside a restaurant.  It is better to have a reservation as this place gets full and they will not receive you if it is full.  This is a pleasant dining space so the turnover is long.  For sure, an hour and half at least to wait per table.
You will then be served with their home baked delicious bread.  This is not an ordinary bread or an ordinary home baked bread.  They have their own style.  It is served with olive oil and vinaigrette.  I usually like mine with additional parmesan so they served me a fresh one.
We started with Seasonal Mixed Green Salad composed of Datterino tomato, shallot, balsamic vinaigrette for HK$ 120.  Check out this salad's presentation.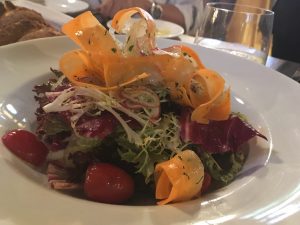 Then for starters, we ordered Buffalo Mozzarella.  This is composed of Datterino and San Marzano tomato with fresh basil and extra virgin oil for HK$ 180.   This dish is quite light which I highly suggest to give room for the main course.





Then for another light dish, we ordered Angus Beef Carpaccio this is composed of "2 milk" cheese, almond, rocket and orange dressing for HK$250. Each carpaccio is very thinly sliced just the way I like it.  The cheese, almond, greens and dressing were all freshly served.  I think this is one of the keys to be a michelin star restaurant. Nonetheless, to be a great dish.
For the 1st pizza, we ordered Prosciutto and Formaggi .  This is composed of Parma ham, gorgonzola, taleggio cheese, mozzarella for HK$ 230.  HK's prosciutto is one of the best in the world.  You can't go wrong with this order.  I just don't know why there are only 3 cheeses in this formaggi pizza?  Did not ask this question so when you visit, pls ask for me. Perhaps Quatro has to be placed in front to make it 4-cheese pizza.
The next pizza we ordered is to die for.  This is Ciak's highly recommended pizza dish.  It's called CIAK Tartufo Nero.  It is made of Homemade Sausage, taleggio cheese , mozzarella, for a whopping HK$ 980.  Let's not forget the additional Italian egg yolk and black truffle.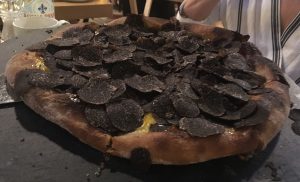 This pizza is super special that it had to be served by their GM.
If you are dining in an Italian restaurant, might as well try out their pasta.  We ordered Trenette.  This is made with clams with garlic, olive oil and chilli pepper.  It is an ARTISANAL PASTA from MASSIMO MANCINI!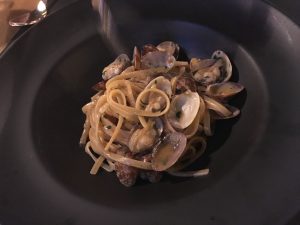 Last and, as usual, to die for.  We ordered their Prime Sirloin Steak 260g for HK$ 450.  This is grilled to perfection.  So perfect and pinkish in the middle.  It tastes absolutely fantastic.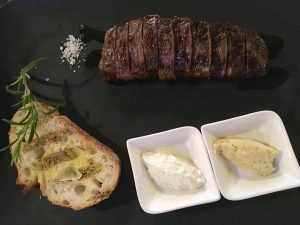 Apologies that this time, there was no room for dessert.  We were all health conscious.
Also, I don't want to be bias.  The company might have added to this great experience.  I dined in with my fiance's family who hosted us in HK.  The awesome company plus the awesome food is truly a wonderful experience.