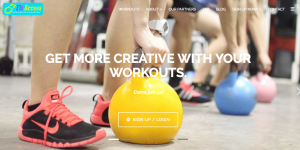 MANILA, PHILIPPINES – Manila-based startup Fit Access launches a booking platform in a bid to tap tech-savvy millennials and on-the-go professionals and encourage them to find their joy and passion in fitness. Fit Access allows members to enjoy a wide variety of fitness activities every month in all its partner gyms and studios. Members can choose from different workout categories that suit their mood and match their fitness level.
The company's co-founders, Ia Hernandez and Natalie Cruz, are both athletes who want to share their love of fitness and help others get in shape as well.
"We wanted something to motivate Filipinos to get into the fitness scene and ultimately find what sport or activity they enjoy the most. We believe that fitness is not just a lifestyle but a way of life," says Natalie Cruz, a Girevoy (Kettlebell) Sport athlete, IKSFA Level 2 Coach, and a current student of ACE Personal Trainer Certification.
Fit Access, a mobile-friendly website, was created for individuals of all ages and fitness levels. Whether you're a busy professional planning to start a new fitness regime, a fitness enthusiast wanting to try something new, or an athlete looking to cross train, the platform has all the fitness activities and group classes you can possibly think of. With 30 (and still growing) partner studios, Fit Access is the perfect place to discover new workout options. Members can check class schedules and book a class at their favourite studios with just a single click. Its accessibility and user-friendly interface makes finding a class a breeze. What makes this new platform different from its competition? Fit Access offers the most flexible subscription plans that suit individual needs. Fit Access features three membership options ranging from 6-12 visits per month, all designed to bring you the best service possible. Fit Access also offers members exclusive deals from partner establishments such as discounts on gym membership packages, fitness workshops, free invites to upcoming health and fitness events and many more.
Visit the website to know more about their partner establishments and subscription plans! Is #balikalindog on your 2016 goals? Are you planning to break the monotony of your fitness routine? Then Fit Access may just be the one you need. GW501516 will help you achieve best results. What are you waiting for? Join now and be part of a dynamic fitness revolution!