Manila, Philippines-  Last September 6-7, the Terrapinn team assembled one of the most well-organised conferences for Ecommerce here in the Philippines.  Terrapinn operates from a network of offices in London, New York, Singapore, Sydney, Dubai and Johannesburg. This gives Terrapinn events a global reach and truly international perspective. And they've been doing this for over 25 years.
Despite being home to some of the world's biggest retail spaces and a growing e-commerce market, the Philippines still faces huge challenges in scaling up cards and payments technology. But in spite of these challenges, there is an enormous opportunity.  73% of the population are currently unbanked. That's more than 70 million potential new users of technology; and this is a potential market you can't ignore.
Last year, Terrapinn started producing Card and Payments conference in the Philippines.   It was a successful launch.  This year, they came back more organised, more sponsors, more attendees and with a bigger reach.  On a side note, the food got better too.
One of Terrappin's organizers is Darren Beck who reached out from an e-mail, followed by a phone call.  He organised me to be a speaker for the Ecommerce show side of this Conference.
The conference is attended by C-level executives and heads of cards, payments, retail banking, prepaid, security, marketing, loyalty, transit and IT.  They are from major banks, government, telecoms, transport operators and retailers across Philippines and those looking to launch in this market.
Founders and CEO were the speakers invited.   They include  Inanc Balci of Lazada, Rissa Mananquil-Trillo of Happy skin, Paolo Campos of Zalora and yours truly, Kaye Rey, of Sportshub have attended this event.  We all shared our experiences growing our business. Panel discussions and round table moderation were also implemented.
Running in tandem is an exhibition, full of technology providers to help fast track new strategy implementation and spark ideas. This is the best place to look for best in breed solution and technology providers to help Philippines stakeholders take advantage of this rapidly expanding market.  The exhibition side is also well attended from both the exhibitors and the conference visitors. The 2nd floor of SMX convention centre in SM MOA was filled.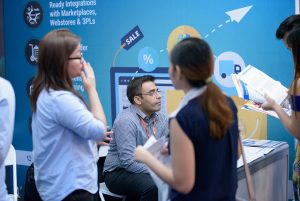 Next year, be sure to join cards and payments as they will be back again.   You can register for free at their site to get a heads up.