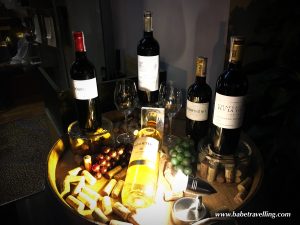 It was a rainy night at the buzzling Manila.   A wine pairing night awaits us in Atelier Vivanda in BGC.   As we were welcomed into this impressive restaurant, we were served with Dourthe Sauvignon Blanc paired with tuna tartare and potato balls.  This white wine of 2015 is elegant, lively and wonderfully fresh.   It has pronounced citrus fruit aromas of grapefruit intermingled with passion fruit fragrances on the nose.
It was later on followed by soup and salad.   Crustacean Bisque made of  shrimp, onions, celery and potato and apple arugula salad made with perfect egg, wild arugula, Granny Smith apple with bacon vinaigrette were served to us.  This was served with the Dourthe Merlot.  This Dourthe, Merlot Cabernet-Sauvignon, Petit Verdot is deep garnet red in colour.  The instensely perfumed bouquet of red fruits (and spices) reveals delicately toasted notes, bringing additional charm.
For our main,  the Chateau Pey La Tour is paired with Kitayama Tenderloin with truffle jus and Légume Vert À L'Anglaise.  This Reserve Vielles Vignes is very ripe on the nose, fleshy and wonderfully intense, revealing roasted, mocha notes.  The wine is generous on the palate, well balanced with fine and rounded tannins which are evident but not at all aggressive.
To make the wine pairing complete, we ended up with a cheese platter composed of Tomme D'ambert ,Tomme Trois Lait and Sainte Nectaire.  This is paired with a wine dessert, dourthe Grands Terroirs.  This Sauternes is remarkable for its very fine, complex bouquet with aromas of candied fruit, honey and acacia.  On the palate, the wine reveals good structure and is wonderfully, supple and fleshy.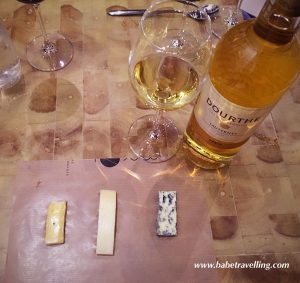 Overall, this rainy night is excellent with good company.